Gail Chiasson, North American Editor
Maybe you think you can, but do you know that Chicco is really pronounced KEE-ko?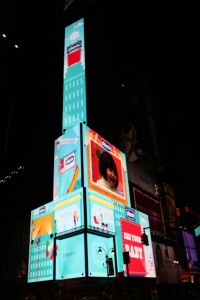 To help get the brand known – and pronounced correctly – OAG, an IPG Mediabrands company, and technology partner Aerva have developed a program for Chicco USA whereby parents can record a video of their child saying Chicco and have it appear on the American Eagle Outfitters billboard in Times Square.
The videos began airing on the billboard this week and will run through March 13. The LED screen displays the Chicco clips twice an hour at 15 and 45 minutes after the hour. However, passers-by cannot determine whether the children in the clips are saying "Chicco" correctly or not because, in noisy Times Square, the billboard has no audio capability. However, the audio is audible when the clips are played at chiccousa.com/timessquare.
This campaign is the highlight of a multi-media campaign by Chicco to help raise top-of-mind awareness for the diversified baby products brand. The company, well known overseas, wants its brand name to be better known by Americans — and said correctly, too. Chicco is owned by an Italian company, the Artsana Group.
The campaign invites parents to enlist their baby in learning to prounce the brand, and to make a video clip of the baby saying "Chicco". It could then appear on the Times Square.board.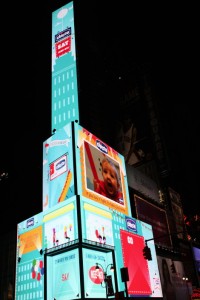 In addition to the out-of-home elemen, there are also print advertisements, content on a section of a web site and outreach through so-called mom bloggers. Online ads include a special ebcam banner through which the videos can be uploaded, and the campaign has a presence in social media like Facebook and Twitter.
The campaign theme line is 'If you say it right, it makes you smile'. While OAG and Aerva handled the integration and placement of the campaign onto the billboard in Times Square, McCann Erickson and Universal McCann oversaw the creative and media strategy.
Chicco's products are sold by chains like Babies 'R' Us, BuyBuy Baby, Toys 'R' Us and, as of last month, Target. Chicco's strollers, car seats, travel systems, toys, highchairs, portable play yards and other merchandise are priced as a premium brand for the mass market