Adrian J Cotterill, Editor-in-Chief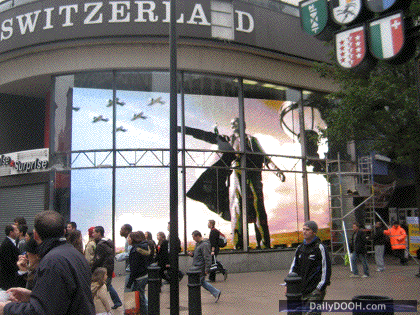 Not a fan at all of LEDs but this one is well worth a look – both in terms of size and independence – there is a hell of a lot of digital innovation going on around Europe with High Impact outdoor – traditional outdoor media owners should beware!
This LED screen officially goes live Monday 29th October and amongst other things it will feature daily editorial feeds from the US E! Channel. Airtime is split into 15 second slots on a 60 second loop.
It's positioned in London's Leicester Square at the Swiss Centre building – an incredibly high footfall area, for those of you who know the area.
Captive People provide screen management and assist Omni Global (who own the leasehold) with media sales.
Content management is (yet) another win for Jason Cremins' Remote Media's Signage Live product.
Bluetooth is from my recommended supplier Breezetech and there are also four sets of Feonic's Whispering Window device installed (and 8 speakers).
LED Screen Hire (Europe) Ltd supplied the screen.
CMT were responsible for the installation and hired the Whispering Window units.
It's only up until January 4th 2008 which is a shame but well worth a look
http://web.mac.com/michaeludo/LEDSCREEN/LED_SCREEN.html