During the latest PromotionExpo exhibition held in Milano from 9th to 13th of March we had the opportunity to confirm the effect that the Dreamoc (produced by RealFiction) could have with customers.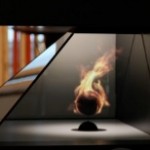 Presented now, for the first time in a public exhibition in Italy, collected high interest from marketing peoples interested to position products in very impressive way. Actually Dreamoc is used on few fashion brands flagship mainly to tell stories about accessories (parfums) or in airport lounges to explain frequent flayer card (Alitalia with Oglivy).
Distribuited in Italy by Lifetronic is getting more and more attention from brands who need to surprise their visitors and from production side the content creation is not so difficult to implement.