Gail Chiasson, North American Editor
Milan Transport Agency is employing Scala-powered digital signage to Jump-start its renewal Project.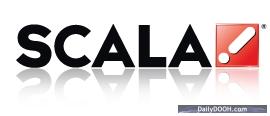 The Milan Transport Agency (ATM) and the City of Milan, on a mission to modernize both the underground and above-ground public transportation network, has plans to replace all vehicles with more environmentally friendly versions, improve transportation efficiency, and increase safety and comfort for travelers.
ATM turned to Scala Certified Partner M-Cube, to design an integrated digital network for this high-profile project.
The new network spans 42-inch LCD displays sealed in unbreakable glass located in underground train station mezzanines. The network communicates ATM corporate messages, network service updates, alternate routes and emergency messages.
There is also a panic button connected to the mezzanine monitors to provide default messages in case of an emergency. A push of the button will alert the ATM control room, which will then manage the messaging to stations affected by the situation or the entire network.
At the above-ground transportation stations of the airport bus line San Babila/Linate, M-Cube has implemented information poles with two 26-inch LED monitors per pole, providing visibility from all sides. The monitors have been optically bonded to ensure visibility in all weather conditions and direct sunlight. These displays provide information about the position of the bus on its route, and arrival time at the stop where the traveler is viewing the screen.
ATM's communications offices needed a digital signage network that could live up to all of the information tasks needed, while communicating over an extensive network and one that was able to integrate existing system functionality. In addition, it wanted a network to serve as a communication tool between its staff and headquarters. The choice, we are told, was Scala because of its reliability and flexibility.
Roberto Carreri, ATM project manager, says, "Because of its flexibility to integrate with our existing databases and current application environment, the Scala system enables ATM to communicate important information in an easy-to-understand format, using captivating graphics, while distributing multiple messages simultaneously over a complex network without any extra development work."
M-Cube is focused on the delivery of hardware, software and services. It is dedicated to the broadcast of multimedia contents and specifically tailored for large commercial organizations, such as in-store audio-video communication systems, displays, interactive kiosks, and multi-media totems.