Adrian J Cotterill, Editor-in-Chief
The Sky View Center, a new 800,000 square-foot mall in downtown Flushing, N.Y., has become one of the most talked about retail developments in Queens. The center installed a state-of-the-art digital signage system conceptualized by Imperatives Inc., a Scala Certified Partner based in Schenectady, N.Y. Imperatives worked with Sansi North America to launch the network, which is powered by Scala.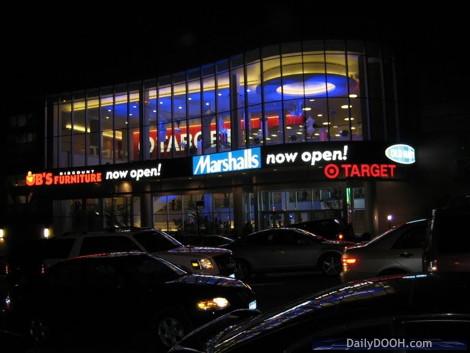 Imperatives created a network of displays strategically positioned in prominent public areas, both inside and outside of the mall.
Sky View's new network is currently deployed on three Sansi LED screens, with potential expansion to other hotspots in and around the mall. It comprises a central server running Scala Content Manager and three Scala Players. The Scala software synchronizes the content on each of the screens to display a unified message.
The initial goal behind the new digital signage system was to attract customers to the mall and highlight the grand openings of each of the individual stores. Content informs patrons of opening dates, times and what the mall has to offer its visitors. In the future, the Sky View network will display relevant advertising content and inform people of various community events being held at the mall.
After careful consideration, Sansi selected Imperatives for the rollout, based on its experience working with Scala and track record of providing high-end content design and hardware. Imperatives initially created 40 different signage templates and will continue to create about three to four new templates each month, as needed.
Dennis Hickey, Managing Director at Sansi North America told us "Our engineers have experience working with Scala in the past, and we are pleased with Scala's ability to seamlessly control our LED equipment. We choose Scala because we feel that the scheduling and playback elements are the best and most user-friendly on the market. We pride ourselves on the quality of our displays, so it is important to have a stable and proven operating system to coexist with our product."
About Imperatives Inc.

Imperatives Inc. (Schenectady, N.Y.) specializes in computer graphic systems, and digital media signage and services. Founded in 1988, our goal is to provide excellent service to companies and individuals having specific digital media and computer graphic system needs.
About Sansi North America, LLC.

Sansi North America LLC, a New York based company, develops and produces LED display and lighting systems for a wide range of industries in United States, Europe and Asia. Sansi, a $145 Million per year LED manufacturer, specializes in LED text, graphic, video, and lighting products.