UK:  The Cuckoo Wharf in Birmingham, is boasting one of the largest LED displays. The 96-sheet LED display, measuring 12 meters wide and three meters high was installed and integrated by Concept Sign and Display (CSD). The screen is not just silent, it  comes with surround sound.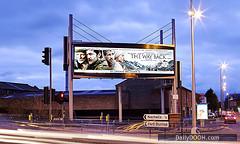 Scala Certified Partner CSD, provided a comprehensive integration service, which included initial design, the installation of the display and its steel support structure, content management and ongoing training and remote monitoring.
"We have been a traditional sign business for 13 years and have been involved in numerous digital sign projects over the past six years. As it has become a greater focus for our business, we realized we needed to partner with a mature technology platform that was proven and reliable," says Sean Morrough, Managing Director at Concept Sign and Display. "We selected Scala after a review of the numerous options in the market and became a Scala Certified Partner in September 2010. With a solution such as this, where our client demands the smoothest playback performance with the highest level of reliability, Scala delivers the best solution in the market. "
The billboard features color advertisements from a wide range of companies such as Mercedes, Stella Artois, Estee Lauder, Orange Mobile and other well-known brands.