C-nario's digital signage software, C-nario Messenger, is being implemented in Moscow's One Window project, a municipal initiative to improve citizen services. C-nario Messenger drives digital signage networks that are installed in regional service centers across Moscow.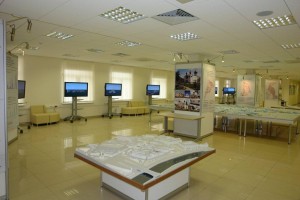 The One Window project, begun in 2008 and slated for completion in 2012, encompasses Moscow's 10 administrative regions (okrugs). Currently, five service centers are being added to the initiative, and dozens of screens are being installed in each center. Granit Center serves as prime contractor and integrator for networking services, IP telephony, and contact center, among others.  Avilex, a provider of audio visual integration solutions, is Granit's partner for the digital signage, audio-visual and queuing systems.
"One Window is a huge and complicated project," said Granit Center's Deputy Director Anton Buslov. "We have to provide many types of information to various locations, from one point, and C-nario Messenger helps us get the job done."
"The digital signage networks turn Moscow's service centers into an information space, helping the authorities to serve citizens and the business community better and in a more efficient manner," said Tamir Ginat, C-nario's CEO. "It changes the concept of public service and makes the time a citizen spends in the public centers more efficient and pleasant."
The screens, provided by Mitsubishi Electric, display a wide range of information related to various municipal and regional services and processes, such as real estate issues; provision of various documents; public hearings and seminars. In addition, the digital signage network is connected to other systems, such as queuing systems, improving the efficiency of on-site assistance and preventing time waste. The digital signage networks also display entertaining video, to reduce the perceived waiting time.
In addition, the digital signage network provides information about Moscow's development plans and public projects, a very useful tool for local businesses as well as foreign investors.
C-nario Messenger allowed Avilex to integrate the digital signage network seamlessly with a queuing system, fire alarm system (making it possible to switch the layout to emergency information) and an AMX control system, which is used to control the displays' volume level locally. C-nario Messenger connects the digital signage network to a help desk through the touch panel interfaces, and allows administrators in various buildings to publish local news using Messenger's Local Web Editor.  C-nario Messenger integrates professional DVD players, workstations and TV receivers used to drive the right content to the displays.