Adrian J Cotterill, Editor-in-Chief
Meredith Corporation (NYSE:MDP) announced this week an agreement between Meredith Video Studios, its multiplatform and branded-entertainment division, and Premier Retail Networks, Inc. (PRN).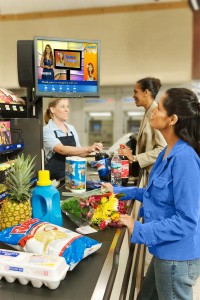 Under this development and production services agreement, Meredith Video Studios and PRN will develop, create and produce custom video content that PRN will distribute to millions of shoppers in more than 4,500 retail and supermarket locations across the United States.
The agreement couples PRN's proven expertise in developing effective content and messaging for unique in-store environments with Meredith Video Studios' extensive production experience.
Kieran Clarke, Executive Vice President of Meredith Video Studios told us "Meredith Video Studios has set the industry standard in delivering important information to consumers on multiple media platforms. Joining forces with PRN gives us a mass-reach distribution channel that provides the ability to interact with marketers and consumers in this exciting and emerging space outside the home."
Meredith Video Studios and PRN will customize hosted how-to segments and scripted narrative vignettes that will air on PRN's Checkout TV® and HDTV Networks at major retail locations.
Video lengths will run from 30 seconds to two minutes, focusing on topics ranging from better living and wellness to parenting and entertaining. The videos will leverage Meredith's home, shelter and parenting expertise, and will be based on content from Meredith's expansive brand portfolio including Better Homes and Gardens, Parents, Family Circle, More, and Fitness magazines.
PRN Chief Sales Officer D. Scott Karnedy added "This agreement with Meredith creates a great opportunity for marketers to sponsor engaging and highly relevant content in places where millions of people are actively making purchasing decisions every day".