Millions of travelers passed through Spain's airports in 2010. This year, airport retailer Aldeasa plans attract them better thanks to its new-and-improved digital signage network. The company had been looking for an engaging way to capture the attention of the millions of time-pressed fliers racing between terminals in airports across Spain. Digital signage proved just the ticket, providing Aldeasa with an opportunity to not only stimulate sales from purchases of luxury brands sold in its retail stores but also a platform to generate additional revenues from airtime ad sales.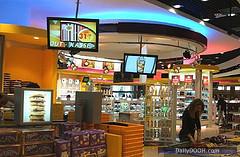 Working with Match Ingenieria de Sistemas in cooperation with ASVideo, Aldeasa created a multi-location, 80-screen, 14-channel digital signage network — all centrally managed using Scala Content Manager and Player software.
The new digital signage network, first launched in Palma de Mallorca Airport, has recently expanded to Spain's Malaga airport and the country's main international airports in Barcelona and Madrid. Designed to provide customers with the latest information and promotional offers, the network includes more than 14 channels of product, price and promotional content relevant to the specific zone the customer is shopping in at each airport. The network also provides Aldeasa's staff with the ability to upload custom messages directly to the screens for specific promotional use.
"The Aldeasa retail airport network proves that Scala software is the leading solution for a multi-location, multi-channel, centrally managed digital signage network," said Oscar Elizaga, Vice-president of Scala EMEA, India and Latin America. "The graphic excellence of the Scala solution and the top-quality services of ASVideo enable luxury brands and Aldeasa to capitalize on the large number of air travelers in Spain."
The latest addition to the Aldeasa network, is the platform at Terminal 4 of Madrid Barajas Airport and consists of four video walls and 10 single screens, all powered by Scala software. One video wall is set up in the Sport Area of Terminal 4. It is a two-by-two screen resembling a soccer goal, and is exclusively used by Adidas for commercial purposes. Three video walls in the same terminal consist of a three-by-two set-up, using 40-inch screens. The installations are placed at strategic spots in the 8,000-square-meter terminal. These video walls display various eye-catching Aldeasa promotional offers and advertisements of products offered in the Aldeasa stores such as Toblerone as well as luxury brands such as Hugo Boss and Versace .
In Barcelona, Aldeasa installed a signature digital showpiece near the arrival area of Terminal 1. Using Scala Player software, engaging content is distributed to a massive sign cube that is three meters wide and two meters deep and holds two LED screen panels that are 2-by-2 meters each. Video content flows from one screen panel wrapping around to the other. These large panels enable Aldeasa to inform arriving passengers where to buy duty-free goods and to promote specials at the point of arrival.
Aldeasa dramatically enhanced the stopping power of its newest retail concept called "The Shop" — one of the largest (2,300 square meters) commercial areas in any European airport — located in Malaga Airport. Seven stand-alone, 46-inch screens display various content streams of Aldeasa and luxury brands. Two huge video walls positioned strategically play duty-free brand promotions and other promotional content in a dynamic loop.
In Palma de Mallorca, Scala powers 16 screens each placed in key areas of the Aldeasa store to perfect visibility toward customers. Four zones were created within the store as a result of research into customer buying habits and their movements within the store. And seven content channels were set-up to reflect and promote each core product category.