Adrian J Cotterill, Editor-in-Chief
A couple of weeks back we were kindly invited by Steve Cox, Marketing Director, Titan Outdoor to take a tour of London's **Victoria Station with the Titan Outdoor team.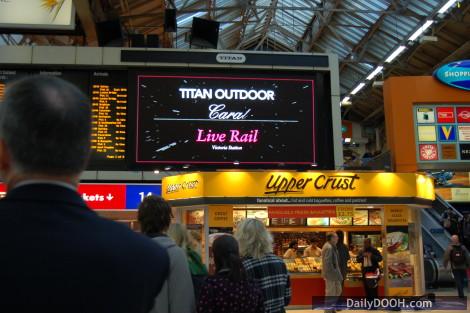 We weren't alone in doing a tour and in fact we were absolutely the LEAST important folks to take it – in the week before and following, Titan had over 100 visitors to their "Live Rail" tours, including; Kinetic, IPM, Open, Source, and Meridian (all Titan 'Poster Specialist' customers of course) as well as media agencies such as Carat, Mindshare, Starcom, and Mediaedge:CIA.
Anyway, what they saw impressed the pants off of us. 17 digital 6-sheets (Titan call them D6's) – all visible from a distance (this is due we are told to their unique bonded screens) and all intelligently placed.
In fact a lot of thought has been given to D6 placement – someone has spent a lot of time looking at the way folks come off the mainline rail routes and walk to the undergound and where people stand when waiting for the trains.
Typical of the feedback that Titan received after a tour is what Anya Casey, Business Director at Source, told us "I thought it (the tour) was very useful, particularly for those of us who are tube bound! Good to hear about all of the new initiatives and upgrades Titan are going to be doing next year, and I thought the D6s looked fantastic"
What Titan have achieved here in such a short space of time is phenomenal, whilst not everything at the station is digital there are enough D6s (and of course the Transvision screen shown above) for this to be a very impressive show-piece installation – we for example, will definitely be taking some of our own customers around to show them what is possible going forward.
The only downside perhaps is that the Titan Transvision screen is perhaps showing its age a little – there were some dead pixels on the LED when we were there.
Technology has moved on since this particular install pioneered the large digital screen marketplace (and let's not forget that it did indeed PIONEER this marketplace) and yes these screens are expensive (and of course the cost has to be amortised over a period of time) but we would say, almost definitely that this particular LED screen needs replacing.
**Victoria Station is both a National (overground) Rail station and a London Underground tube and of course Titan have the overground advertising rights (until 2011 we think) for both traditional and digital.