Adrian J Cotterill, Editor-in-Chief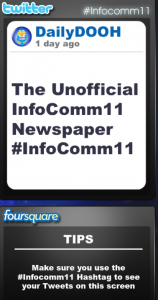 We've encouraged but haven't persuaded them (yet) to open source it but it's interesting that signagelive have gone down the build-your-own-social-app route rather than partner with or license one of the many startups in this space offering the same.
signagelive CEO, Jason Cremins told us "We decided late last year to write our own social media apps"
He continued "The bottom line from my point of view is that I have tried to both commercially and technically integrate with third party social media apps for digital signage and also to integrate publicly free apps such as www.visibletweets.com but could never come up with exactly the right solution for our resellers and end users".
Currently we understand that in signagelive's arsenal there are apps for; Twitter, foursquare, Facebook, Google Places and Gowilla.
If you are attending #InfoComm11 this week then take a look at the screens on their stand 4688 (shown here) that will run a continuous loop of twitter feeds and foursquare stuff (just like at #ScreenMediaExpo in London a few weeks ago) and ask for a demonstration of their drag and drop widget configuration in multizone or full screen.
This is all part of the full and standard signagelive offering.