Gail Chiasson, North American Editor
Those who attended the DisplaySearch 4th Annual Digital Signage Conference, held the day before #InfoComm11, were privileged to be at one of the better educational day sessions we've attended in a long time.
What on the conference program looked like it was going to be a series of boring case histories and company speakers selling their own products turned out to be nothing of the kind.
Rather, each speaker tackled a particular topic relevant to the industry and explained in detail where that was going and details of how to use, how to sell, how things are changing in that area. Sure, they made reference to their own companies, but more in relation to how they've learned and used the particular topic referenced.
It was a real shame then that the event was so poorly attended. We counted 43 people in the room; as four of those were DailyDOOH plus Dave Haynes, David Keene and a dozen speakers, we wonder exactly how many people paid to attend?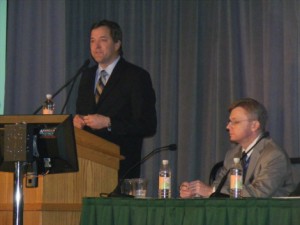 The digital signage industry has a major problem if a conference organized the day before #InfoComm11, which itself attracts over 33,000 visitors, can ONLY attract less than 50 people.
It's not an isolated incident either, because the digital signage / digital out of home conference the day before #ISEUROPE in Amsterdam in February (which attracted over 28,000 people) only attracted 130 people.
This conference was one that a lot more companies, vendors and resellers could have learned from, so perhaps the problem was in the agenda itself, the way it was positioned and the lack of a really big name / big draw keynote speaker – and no we would not have suggested the Doctor, Ed
There's a huge thirst for knowledge about digital signage in the AV Industry and it is quite simply not being tapped.
Chris Connery, vice-president PC and large format commercial displays, DisplaySearch moderated the day quite well, asked some solid questions and kept the conference on time but did cut across a couple of questions from our own editor-in-chief to the HP guy just when a debate and a discussion with the audience was about to get interesting.
Anyway, as well as our learning about pitch tilt, parallax barriers and the advantages of aluminosilicate glass, here are a few excerpts from what some of the speakers discussed: –
Apart from the attendance the only other downside was that during the day there was no mention of OLED and no MicroTiles or Prysm stories. It would have been good also for the organizers to have gotten someone from eyevis to talk about omniSHAPES.
Having said that we enjoyed it, we each received seriously the BEST 'goodie' bags ever at a conference event we attended and to top it all we all learnt a lot.