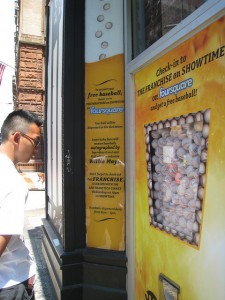 Outside the legendary MLB Fan Cave in New York, sports fans have a chance to participate – for the first time ever – in a MLB ball vending storefront experience, powered by Foursquare.
When triggered, the one-of-a-kind storefront dispenses an official MLB baseball to the user and a few lucky baseball lovers will receive an autographed ball!
To make this possible, an all-star team was created to execute the first Foursquare vending experience ever executed in a storefront.  The lineup includes: Showtime, OMD and digital out-of-home advertising specialist Monster Media.
"What makes these types of social media campaigns work is that they are incredibly engaging and users have never seen anything like it before," said Tim O'Brien, SVP of sales and marketing at Monster Media.  "We have received extremely high interaction numbers and at this time over 400 baseballs have been vended."
Participants are directed to check into "THE FRANCHISE on Showtime" via Foursquare, which activates the intelligent storefront to release a baseball.
This ground-breaking campaign has reached an outstanding amount of interactions, vending over 400 baseballs since its launch date, June 27.