Adrian J Cotterill, Editor-in-Chief
The UK's leading Multi-Channel retailer Argos has incorporated the flexibility of Digital Out Of Home advertising as part of a GBP 4 million new 'order online today, enjoy today' ad campaign.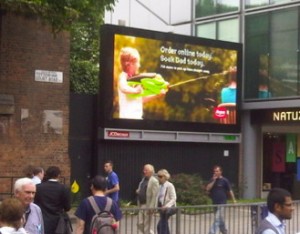 The campaign by CHI & Partners, Mindshare and Kinetic went live late last week across London BUT it will be promoting water pistols and barbecues in the sunshine or toys that can cure boredom on a rainy day!

At the beginning of their OOH journey, Argos, the UK's leading multi-channel retailer, has chosen to take a seasonal approach and focus on weather-sensitive creative to further demonstrate the benefits of not having to wait for products you want to enjoy today.
If the weather is gloomy, Londoners will be shown a toy to keep little ones entertained in the home; if skies are sunny the creative will show products to help customers make the most of the sunshine, such as a barbeque or water pistol.
The climate-responsive element of the campaign runs across roadside digital 48 sheets, London Underground LCD 6 sheets and rail digital 6 sheets. Traditional Out of Home increases coverage through the use of large premium formats and cross-track 48 sheets. The campaign will run in bursts through the summer.
Nicola Brown, Argos Brand Advertising and Digital Manager told us "We are excited to be embarking on our first brand Digital Out Of Home campaign, which supports our 'order online today, enjoy today'activity running across TV, digital, press and radio.
"Argos is in a unique position to deliver the convenience and benefits of both online and high street store shopping – which means if you want an item online without delay you can get it. As the DOOH campaign demonstrates, it is critical when the sun shines or the rain falls to hit the right notes with customers to capture those impromptu purchases."
Carolyn Nugent, head of digital at Kinetic added "As digital is included in more Out of Home campaigns, it's great to see Argos taking full advantage of the flexibility of the digital formats. The relevancy of the products is key to engaging audiences."
Argos sells around 40,000 products in the catalogue and online, working with CHI & Partners and Mindshare on communicating the unique customer benefits of the Argos multi-channel offering.
Argos.co.uk accounts for 36% of Argos sales and over a million people every month reserve online and pick up products from 750 Argos stores across the country.
About Argos

Argos is the UK's leading Multi-Channel retailer and provides a highly successful and unique offer of choice and convenience. It sells general merchandise and products for the home from over 750 stores throughout the UK and Republic of Ireland, online and over the telephone. In the financial year to February 2011, Argos sales were £4.2 billion and it employed some 33,000 people across the business. 
 
Argos serves over 130 million customers a year through its stores. On average, 17 million UK households, or around two thirds of the population, have an Argos catalogue at home at any time. Argos' internet site, www.argos.co.uk, is one of the most visited high street retail websites and Argos continues to be the second largest internet retailer in the UK, with 400m website visits each year.

 Argos is part of Home Retail Group, the UK's leading home and general merchandise retailer.