Adrian J Cotterill, Editor-in-Chief
Production AV fielded the largest temporary Christie MicroTiles display ever at the recent Goodwood Festival of Speed.
Working for Twofour Digital, the Gloucester-based AV specialists commandeered no fewer than 270 Tiles, configured in a giant concave 30 x 9 display† to help car manufacturer Audi showcase its entire range.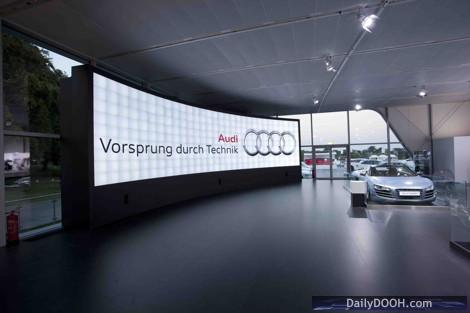 Production AV were brought in by Central Presentations Ltd, to whom they had earlier demonstrated MicroTiles. The latter, in turn, introduced Twofour Digital and Audi to the unique technology when they were looking for a jaw-dropping media display that would wow visitors to their touring pavilion at Goodwood.
"When they saw MicroTiles they decided to fill the whole of one wall with a curved display, giving them a 12m x 2.7m screen," said Production AV project manager, Sam McCrea.
Set on a 1m high plinth the display was the largest temporary MicroTiles installation yet seen in Europe.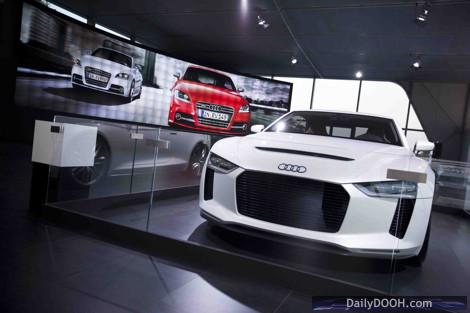 The screen showed footage created by the Twofour Digital team showcasing the best of Audi on a 30-minute loop. Video coverage included a range of Audi racing cars heading up the famous 1.16 mile hill climb, including an Auto Union Type D, Audi R8 LMS and the Audi R18 TDI sports prototype that raced in this year's Le Mans 24 hours.
Hugh Fletcher, National Digital Manager for Audi UK, told us "We are always looking for new and innovative ways to showcase our cars and to improve our visitors' experience at the Goodwood Festival of Speed"
"The screen not only added to the atmosphere inside the Audi pavilion, but also brought our fantastic brand and product range to life."
The content was fed from a Pandoras Box media player as well as five MacBook Pro's running PlaybackPro, via an eight-output Christie Spyder X20 processor.
†The Issy_Neale Formula for this is
_30X9_30T_30T_30T_30T_30T_30T_30T_30T_30T_