Adrian J Cotterill, Editor-in-Chief
For some reason @dhuelsermann. Founder and President of OVAB Europe and Manager NEC DOOH Solutions asked a few weeks ago the following via twitter "There are quite a lot of good blogs,covering the DOOH industry. So,from the following list, in alphabetical order,who is the most influential?"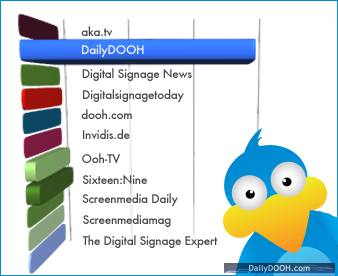 Now whilst only 246 people actually cast a vote we were nonetheless excited to have received a whopping 86% of the poll (211 votes).
In second place was sixteen:nine (5% of the vote with 13 votes) which was interestingly an accurate reflection of our own reading habits – Dave Haynes' insight is a regular daily read for us.
In third place was Ooh-TV (4% of the vote with 10 votes) – multi-lingual and multi-talented Denis Gaumondie does a great job in French (possibly the only French language blog) and English.
We personally don't bother with any of the other sites listed in the survey† apart from the Invidis German language site which we read regularly. We were actually surprised that they did not pick up more votes than they did.
†Bill Gerba's The Digital Signage Insider, Ken Goldberg's Digital Signage Blog, David Weinfeld's Digital Signage Insights and Mike Cearley's The Eleventh Screen were NOT included by @dhuelsermann in the poll.