Gail Chiasson, North American Editor
For a bit of fun, we thought we'd let you know that Ayuda FC, a soccer team composed of staffers and friends of Ayuda Media Systems, Montreal, won the CCSL Summer 2011 Division 4 championship by defeating the Amro Travel FC squad in penalty kicks.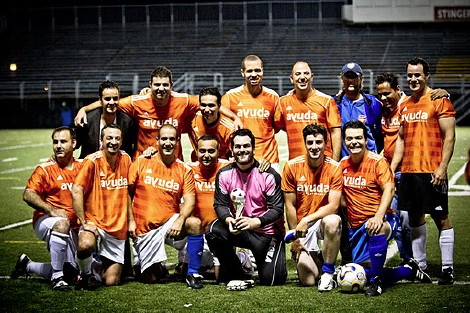 Ayuda FC is the official football club of Ayuda Media Systems, developer of Splash, BMS, and Symphony, the world's sophisticated software platform for the DOOH industry.
The team played 16 games over the season. In the final, After a hard-fought exciting match that ended in a 1-1 tie, Ayuda's Orange & Blue outscored their opponents 4-3 in penalty kicks to take home the CCSL Division 4 cup. Ayuda striker Guido Muzzo, a three-year veteran of the team, had the glory as he chipped in the penalty kick to end the shootout at 4-3 for Ayuda.
"It took us four years, but the Ayuda FC squad has finally shown their strength on the pitch by taking home this championship," said Joe Cotugno, Ayuda's vice-president of client services and four-year veteran and captain of the Orange & Blue squad.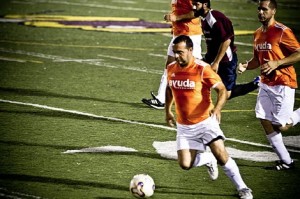 "Every single player on the team deserves the credit for this win, and I am extremely proud to have been a part of the team's success," says Andreas Soupliotis, Ayuda president & CEO , also a four-year veteran of the Orange & Blue.
The Canadian Corporate Soccer League is a non-profit, co-ed, recreational soccer league, committed to offering a high-level of organized play and promoting the league's core values: Team play; Healthy living; Inter-company networking; and Amateur sport.
The League is composed of players from various companies in the Montreal area. There are seven divisions in the league, with division one having the top players, By winning its division, Ayuda has the right to move up to Division Three, but has not decided whether it will do so.