Gail Chiasson, North American Editor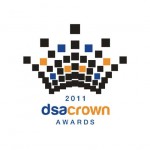 The Digital Screenmedia Association is now accepting entries for the DSA Crown Awards, recognizing the impact of excellent content in out-of-home environments through the use of digital signage, self-service kiosks, and mobile technology.
Companies can enter in one or more of the following categories:
Point of Wait (dwell time – such waiting for a table, waiting in line, waiting room, etc.)
Point of Sale (shoppers – such as retail, restaurant menu boards, etc.)
Point of Transit (people on the go – such as airports, digital billboards, etc.)
Within each of the three categories above, entrants will select one of the following two sub-categories:
Content run on a digital signage / kiosk network (one-way or interactive)
Content campaign run across multiple screens (digital signage/kiosk plus mobile, online and/or TV)
Your company does not have to be a member of DS to enter. DSA welcomes entries from all interested companies – members and non-members alike. The cost to enter is $195 per entry. All entries will require the submission of a photo of the screen in its environment and a video of the content. The content must have been aired between Oct. 1, 2010, and Oct, 1, 2011, to be eligible.
"Great content is often the difference in making a digital out-of-home project successful," says David Drain, DSA executive director. "Since 'content is king,' we've developed the DSA Crown Awards to recognize engaging and impactful digital screenmedia content."
The DSA Crown Awards winners will be announced during a DSA event held on November 8, 2011, the night before Customer Engagement Technology World begins at the Javits Convention Center in New York City. The location of the DSA event will be announced shortly.
DSA member experts involved in the creation of the new awards program included some of the top content leaders in the industry: Michael Chase of St. Joseph Content, Paul Flanigan of Rise Vision, Pat Hellberg of The Preset Group, Keith Kelsen of 5thScreen and author of Unleashing the Power of Digital Signage, and Anne White of PRN.
For more information about the DSA Crown Awards, click here.