Adrian J Cotterill, Editor-in-Chief
It's probably not such a big issue for a company the size of Christie to manage overlapping shows but it's probably still a pain – whilst they had one stand in Amsterdam at #ibc11 winning the award for 'Best Large Free-Stand Design' they were also exhibiting at #plasashow in London.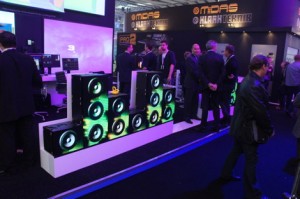 They've been at #plasashow for five years or so now we are told and it's a good event for them. Plenty of rental / stagers and some broadcast folks as well no doubt.
Not surprisingly MicroTiles were a familiar sight on the stand. They had two 'layouts'; this mini-skyscraper and their familiar Break Bar.
Personally we think that some of their MicroTile content needs a refresh. It's still looking good but slightly tired and a bit familiar. The pulsating loudspeakers (shown above) were done eons ago during their whisper suite days and the Break Bar animation has been around for a year or so as well.
If they want to keep winning awards then it's probably time for a change methinks.