Gail Chiasson, North American Editor
Based on the success of its first two years in operation, Toronto-based AddMirror has announced major expansion plans of its resto-lounge network across Canada. aiming to more than double its current network of over 200 AddMirrors to 500 within the next two years.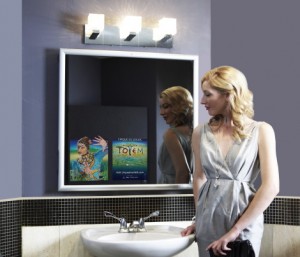 AddMirror is an interactive and engaging advertising mirror activated by a motion sensor. Exclusive to a single advertiser, the mirror becomes a storyboard of creative messages that 'magically' appear and disappear.
The expansion plans are based on the success AddMirror has had recently with campaigns for such clients as Wrigley's, Cirque du Soleil, Disney's 'Fright Night', Telus, General Motors and Volvo, and the fast increasing acceptance of the innovative product by restaurant owners, says Elliott Atkins, AddMirror president.
GM is currently running with the launch of the Chevrolet Sonic in Quebec on AdMirror; Telus is running a campaign in Vancouver and Calgary and Volvo is running a campaign nationally.
"We've introduced an innovative, engaging new product to resto-lounges and both restaurant owners and advertisers have embraced it," says Atkins. He expects to deploy 50 additional products by the end of 2011, distributed between Toronto, Montreal, Vancouver and Calgary. There are no plans to move into other cities as yet.
In recent months, AddMirror has significantly expanded its Montreal coverage with the addition of over 20 new resto-lounges. Some of the new locations include: Le St-Urbain, Apollo, Fibo, Fu Shi, Restaurant Julien, Mythos, and Le Latini.
"We were among the first in Montreal to have AddMirror," says Claude Foussard, owner of Restaurant Julien & Philips Lounge. "People tend to stop in front of the mirror in order to see more."
"Customers find the product very intriguing," says Pedro Mendes, owner of Le Latini. "They are surprised and comment that the mirror is talking to them."
"Aside from the great relationships we have with our restaurant partners, the AddMirror model has proven successful because of its focused resto-lounge network, unique customer interaction experience and exclusivity," says Atkins. "We wanted to establish a different way and model of how advertisers connect to audiences and get away from the same old, same old clutter."
AddMirror is a joint partnership between AddMirror Canada and Media City, Toronto, which handles advertising sales.