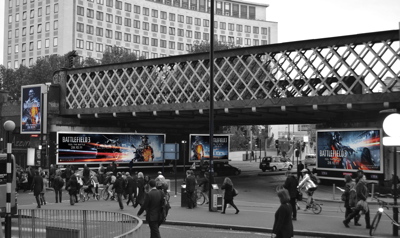 In a move to combine traditional billboards with modern mobile technology, outdoor media owner Primesight teamed up with EA Games to launch an innovative ad campaign for the Battlefield 3 video game at Waterloo station.
This is a good example of how printed posters can become digital, interactive ads in our smart phones.
The game was released  October 25th. The Battlefield 3 images dominate the iconic Waterloo London area, covering 15 Primesight locations and featuring 18 panels.  Different creative executions will be used to create 'Battle of Waterloo' scenes around the station.
As well as featuring QR Code Technology  a number of panels also have Near Field Communication (NFC), this offers passers by the opportunity to interact with the billboards and posters directly from their smart phones.
A free wireless network has been set up in the area which directs users through to Battlefield 3 content – this is open to anyone within a 250 metre radius of any poster. No password is needed, the product name will appear on their mobile which they can click to link through.
The area around Waterloo is one of the busiest in the UK with a daily footfall of 240,000.
Naren Patel, Primesight CEO said: "This is a campaign execution on an impressive scale – we wanted to book an outdoor opportunity which was unique and exciting, not only in scale but in enhanced user engagement, to match the anticipation of the game launch."
Kevin Flynn, senior product manager at EA Games: "The Primesight Waterloo domination allowed us to make the right statement at the right time.  It looks incredible and we're delighted with the results."