Gail Chiasson, North American Editor
The prototype of a new style of digital signage by Astral Outdoor has been gracing Montreal's Sherbrooke St. West outside the Musée des Beaux-Arts' new Claire and Marc Bourgie Pavilion of Quebec and Canadian Art and new concert hall since September.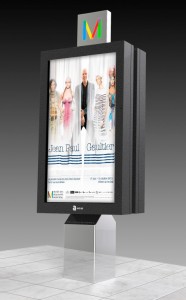 The structure, holding a 72" digital screen, was developed especially for the Musée which wanted a way of showing the programming in the museum's various pavilions and coinciding with both the opening of the new Bourgie Pavilion (housed in a former historic church) as well as the the museum's 150th anniversary.
"The structure is very much an R&D project for us," says Hugues Mousseau, director of cororate communications and synergies at Astral Media. "The sign has 2000 nits lighting, the brightest available for daytime viewing. The City of Montreal's regulations do not currently allow for commercial digital structures, but this one is not commercial and therefore complies with regulations."
The museum sign carries no advertising, just a 60-second loop of six 10-second slices of information on the ever-changing activities housed in the museum's three main buldings that sit on opposite corners.
"We really want to see how the dual-faced structure holds up to incidents and Montreal winter weather before thinking of developing further structures of its type," says Mousseau.
The column design is by Michel Dallaire Design Industriel. Content is managed by Astral's central control.