Gail Chiasson, North American Editor
We've heard that San Francisco-based Reach Media Group is expanding significantly in its NYC office, preparing for various developments in 2012.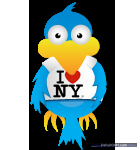 RMG is actively trying to hire a vice-president of sales operations; a director of research; two sales executives; and three sales planners.
For anyone unfamiliar with RMG – and we can't believe there are many in the industry – it was named the #1 Out-of-Home TV Company of the Year and included on AdweekMedia's 2010 OOH Hot List.
RMG is one of the fastest growing digital media companies in the US. It owns, operates and powers Out-Of-Home TV and Video networks. As a result of its rapid expansion RMG now controls 130,000 screens, delivering 58 million monthly viewers across six out-ofhome TV and video networks: InFlight Entertainment, Fitness Entertainment, Point-of-Care, NYTimes.com Today, Taxi Entertainment and Executive Media Networks.
Resumes can be sent to Lizzy.Evans@rmgnetworks.com. The jobs are now also posed on Linkedin.