The IPA Outdoor and the OMC Digital Outdoor Media Group breakfast seminar at the British Museum last week was most interesting. Looking at 'DOOH in a world of convergence' provided a mix of tangible real life examples and future trends that left attendees open mouthed and dreaming of a bright future.
The event was chaired by Nick Hurrell, Partner, HMDG, who was an amusing anchor, able to summarise the key aspects of each presentation and make interesting intros for each speaker.
Chris Cardew, from Mindshare talked about the challenges of media convergence. "According to Wikipedia," Cardew said "media convergence is a technology driven unification of different media," to which he added " we are really f…ked."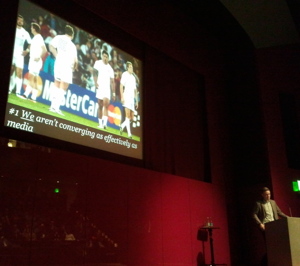 He explained that as individuals we are not converging as effectively as the media is and there is a need for real time planning, "We need a bit more of 'nowism'," he said. "We have to effectively deliver the sum of the parts. While it is important to deliver the message for the medium, it also has to make sense to the consumer. Don't add value for adding value," he remarked.
To illustrate his remarks he described the campaign the company did for ITV for the broadcasting of this year's Rugby World Cup. The objective was to show sports fans that ITV was more than just about the X Factor and Loose Women.
The broadcaster wanted to show itself as sports savvy that understood what fans needed. Given that the world cup was in New Zealand, and therefore at unsociable hours, how information was provided to the sports fans was key to hook them to their screens at the right time.
To achieve this, Mindshare devised packages of information that ran before, during and after the games, creating momentum and providing a services to people while they were out doors so that when they got home they knew what channel they needed to tune in to watch their favorite sport.
ITV's campaign feature on different formats: mobile DigiVans; M4 Ocean Outdoors LED screens on the motorway; and other smaller size DOOH displays around town.
For a real life example that provided a beautiful client perspective, the seminar invited Zandra Ives, from directory company Yell. The journey that Yell transited in order to reposition itself from just a Yellow Pages book, to a more encompassing local and national directory service is an excellent case study.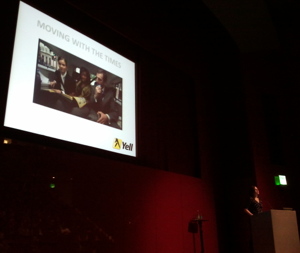 "We wanted to show people that we are a modern company," said Ives. Yell tried its hand at TV advertising with the James Nesbitt series of ads. "It was difficult to show practical directory innovation in a digital space that is mainly about entertainment." The Tenet ads were good for the actor, but didn't do much for the brand admitted Ives.
When a year ago Yell decided to unify as a brand, it stopped and thought about what the company does and how people normally go about using its services. Yell connects people with business that will solve their needs. "We learn from our customers that word of mouth works," explains Ives. So using the power of social media coupled with online, TV and location-based digital outdoor, the brand provided people with useful, timely information.
Digital 6-sheets on bus shelters included interactive screens highlighting local shops, restaurants and bars. These business information was complemented with recommendation that people gave through the website – i.e. word of mouth recomendations.
Transvision screens at high-traffic railway stations nationwide such as King's Cross, Edinburgh Waverly and Manchester Piccadilly featured CCTV style videos and broadcast everyday situations on the concourse such as needing directions to a hotel, finding a gym or somewhere to celebrate with friends.
The seminar finished with a look at the future presented by Rob McIntosh, Creative Director, at Frog Design. He talked about the power of computers and how it has changed governments, countries and unite people. The advent of mobile technology has brought computers to our pockets and transform the experience from being fixed and isolated at a desk to being mobile and connected to others.
"We can see three waves on the evolution of computers," noted Mcintosh, "On the first wave we were just operators. On the second wave, with mobiles, we became babysitters. We have to fid the devices, make sure they are charged, that we have the most up-to-date apps, and remember to take them with us. On the third wave we will become decouple from the device. We will have access to information everywhere. The cities will become the new computer."
Macintosh talked about all the information emanating from the cities that is today already available to people and business. This information is coming from mobiles, taxis, even DOOH. However how we visualize it is what will make the dream a tangible reality. "The city becomes an extension of our senses, driving connections and meaning. But this information is multi layered. Technology today can sense the world around us and help us connect to each other and communicate messages. The key for the future is to learn how to use this information and use the city as the computer interface."
Nick Hurrell closed the seminar reflecting on whether we also need to look at the present and see what's already available to us, being used and proving effective. As an example he showed a clip of the Hyundai Accent 3D projection mapping in Malaysia (shown above).