Adrian J Cotterill, Editor-in-Chief
Responding to our article 'Evoque Railway Station, London' posted Monday afternoon, Brendan Tansey, Wunderman CEO told us "Working closely with Land Rover, we have jointly conceived an innovative 'virtual showroom' that demonstrates the attributes of the Range Rover Evoque in a highly visual and memorable way. The Range Rover Evoque Euston takeover will provide a real talking point and can't wait to see people's reactions."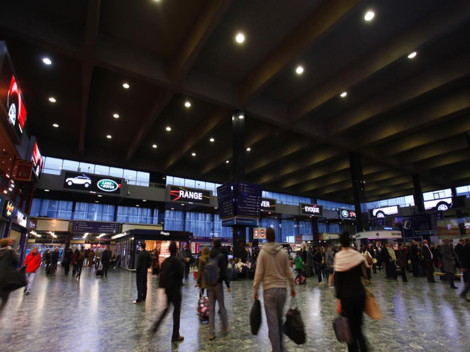 It's a fully immersive campaign that will reach 175,000 commuters every day and sees Land Rover become the first brand to take over the vast majority of the JCDecaux owned sites in the Euston portfolio.
Euston train station users are effectively surrounded on three sides of the concourse by the campaign which also utilises giant wraps, digital and statement sites in innovative and eye-catching ways to increase awareness of the Range Rover Evoque.
As commuters come out of the concourse and travel up the escalator they encounter two enormous Range Rover Evoques printed on vinyl on the walls beside the escalators with their wheels embedded within two of the 13 digital display panels.
The panels run the length of the escalators showing footage of snow, mud, water and tarmac, reinforcing the Range Rover Evoques capability both on and off road, and will create a stunning effect of the vehicles appearing to drive effortlessly up and down the escalators alongside commuters.
Whilst the Creative Agency was Wunderman, Creative Direction was by Richard Kenyon and Nigel Webb, and Animation by Smoke & Mirrors.
The campaign was booked by Mindshare and Kinetic.
About Wunderman

Wunderman is the first name in response-driven marketing that delivers measureable results. With 50+ years of innovation, creativity and analytics, Wunderman transforms businesses—delivering digital, data and creative solutions through its network of 145+ offices in 55+ countries and 19 companies specialising in social, mobile, local and performance marketing. Wunderman stands as the first name in advertising that delivers customer conversations that build brands and generate sales.