Gail Chiasson, North American Editor
San Francisco-based Premier Retail Networks Inc., offering digital place-based media services, has announced the renewal and expansion of its relationship with Sam Zien and the entertaining 'Sam The Cooking Guy' original series running on PRN's in-store media networks at major retail outlets.
The new agreement creates content integration opportunities for advertisers, from sponsor relationships to product placement.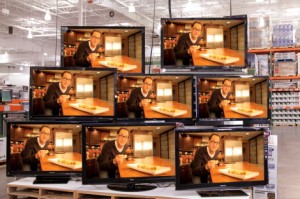 Developed exclusively for PRN, the 'Sam The Cooking Guy' video series presents simple, tasty cooking videos hosted by Zien, a 14-time Emmy-winner, frequent contributor on NBC's Today Show, and author of three cookbooks. Zien is known for his refreshing approach to cooking by using basic ingredients and simple techniques.
The series of 30- to 60-second cooking videos features Sam combining a few key ingredients to create appetizing favorites, such as Pesto Pizza, Shrimp Tacos and Sweet & Sticky Ribs. The latest in a series of original video productions introduced by PRN this year, the cooking episodes appear on PRN's Checkout TVÒ Network and HDTV Network.
"This has been a great opportunity to present bite-size videos and provide inspiration to whip up something new in the kitchen," says Zien. "I love sparking ideas for easy meals while people are out shopping."
With no culinary or television experience, Zien began with 2-minute cooking segments airing twice a week on a local San Diego morning show. The segments caught on and grew into a 30-minute show appropriately named 'Sam the Cooking Guy' – an irreverent mix of humor and easy-to-replicate recipes. His regular 'everyman' style combined with creating food that was 'big in taste but small in effort' helped him gain a national audience with 'Just Cook This!' on Discovery's Health Channel. Zien shoots his show in his own home and doesn't believe in expensive and hard-to-find ingredients.
On having introduced 'Sam The Cooking Guy' original content at retail, Anne White, PRN senior vice-president of content strategy and creative, says, "His fun, fresh approach to cooking with great brands appeals to shoppers, and the content integration opportunities make good business sense for retailers and marketers."
PRN's services enable retailers and marketers to reach consumers in more than 8,550 locations in the U.S. and Mexico.