Gail Chiasson, North American Editor
Over the next three weeks, Pearl Media is launching 3D-cember, transforming some of the most iconic buildings acoss the U.S. into unique, jaw-dropping 3D experiences.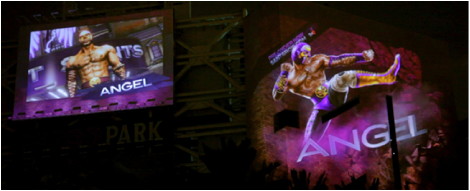 3D-cember will culminate with the largest Interactive 3D mapping projection, allowing people to control massive 3D elements on a building. Pearl Media is urging everyone to come out and become a part of history as the company expects to enter into the Guinness Book of World Records with this feat .
Pearl Media, active in 3D mapping projection in the U.S., will, at the conclusion of 2011, have executed more 3D projections than any other company globally and, it believes, all other companies in the U.S. combined!
Among its 2011 efforts, Pearl Media's 3D Building Mapping Projection Team put together a 7,800 sq. ft. projection on The Roosevelt Hotel, one of Los Angeles' most iconic buildings, for Lexus. The projection launched Lexus' new hybrid model, the CT 200H on Earth Day, April 22, 2011 by projecting 3D roads, butterflies and water across the building.
The company also deployed a massive 3D projection on the side of San Diego's PETCO Park during Comic-con 2011 to promote the launch of THQ's new video game 'Saints Row: The Third'. The 3D projection mapped the contours of PETCO Park, offering consumers a unique and never-before-seen three-dimensional view of the main characters smashing through the walls of PETCO Park, all without the use of 3D stereoscopic glasses.
And it produced and displayed a massive 3D building mapping projection to promote the DVD release of X MEN First Class by Fox Home Entertainment. The enormous 3D projection showcased the powers and transformations of the main characters of X MEN First Class at the famous Roosevelt Hotel. Thousands of pedestrians were able to witness the X MEN transform the facade of the Roosevelt Hotel with flying objects, water, ice, fire, tornadoes and even submarines coming out of the building.
Pearl Media's proprietary 3D Mapping projection technology allows for large objects to come to life in real time high definition 3D without the use of stereoscopic glasses