Gail Chiasson, North American Editor
Red Ventures, an innovative direct marketing firm based in Fort Mill, South Carolina, wanted its new corporate headquarters to reflect its forward-thinking philosophy by leveraging modern digital decor.
With this in mind, the leadership team suggested that a multi-monitor installation serve as their new lobby's centerpiece, which would alluringly communicate the most current company news from an affordable, centralized system.
"We're a technology company, so when we began laying out plans for our new headquarters, we wanted the space to showcase our innovation and culture in a unique way," says Kylie Craig, director of corporate communications at Red Ventures.
With little in-house experience dealing with this type of technology, Red Ventures approached YCD Multimedia in New York, to manage the digital signage installation.
YCD had designed customized video wall solutions for a variety of global clients, but after examining the lobby's wall design, they seized the opportunity to launch their newest MuVi Wall system: a 12-monitor video wall capable of displaying 4K resolution content in any size, of any matrix, and at any angle.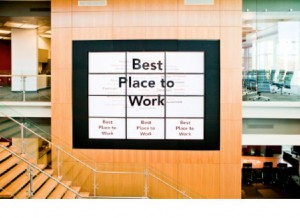 YCD determined that a 3×4 matrix would offer the greatest visual impact for its audience.
Powering the displays are three Matrox M9140 quad-monitor graphics cards, which are all housed within a single Microsoft Windows 7-based, Dell T5500 workstation.
While standard Matrox drivers support only two M-Series graphics cards within the same computer, Matrox and YCD were able to successfully engineer an energy- and cost-efficient, triple-M9140 setup that delivers optimal multi-display graphics performance without the need for additional power, support, or hardware.
The full-featured system also comes integrated with the YCD|Player digital playback device. The YCD|Player allows Red Ventures personnel to conveniently manage multimedia content into playlists and layouts from a user-friendly interface while the featured Elecard 4K codec drives ultra-high-definition video content in customizable display configurations.
Ziv Levavi, director of operations at YCD Multimedia says, "We are able to have 12-output capabilities from one single, off-the-shelf computer without sacrificing any of the functionality or flexibility of our MuVi Wall product."
The video wall measuring 9.5×12 feet now decorates Red Ventures' new lobby, promoting the company's latest developments to captivated employees and customers. From an operational standpoint, IT personnel expertly manage an intuitive digital signage system requiring little to no intervention and the MuVi Wall solution has exceeded Red Ventures' expectations, allowing the company to showcase its latest wins and upcoming technologies on an engaging and informative platform.
"The video wall is the jaw-dropper in our new 90,000 square-foot space," says Craig. "With 12 screens, rotating images, videos, and messages 24/7, every guest who walks through our door is blown away."