Adrian J Cotterill, Editor-in-Chief
We see that YCD Multimedia have some of their solutions at both the HP and the Intel booths at the #NRF 101st Annual Convention & EXPO which kicks off Sunday 15th January in NYC.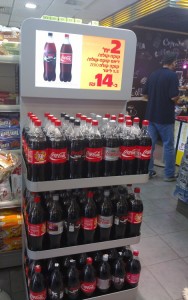 We understand that YCD will be showing a mobile wireless digital signage solution, developed for Coca Cola in Israel. The mobile device plays specific clips promoting the product on the stand and since it is a wireless display, it can be located anywhere around the store.
Not much new in that you'd say – Amscreen (and others) have been doing this for sometime now of course but these systems can be managed and fixed remotely using Intel® Active Management Technology.
On the HP booth will be YCD's 'Retail Advertising and Merchandising Platform' (RAMP) which we like so much, A new analytics module has access to the point-of-sale (POS) systems, analyzing the correlation between the displays and actual sales.  A unique feature provides the user with the capability to immediately examine this correlation in various categories such as individual store departments, geographical regions, location etc.
Users can review trends and improve campaigns and ads. The new module closes the loop between in-store promotions and actual sales, allowing for real-time optimization.  
 
YCD will also demonstrate a mobile application allowing remote access to RAMP over the Internet from an Android mobile phone.