Adrian J Cotterill, Editor-in-Chief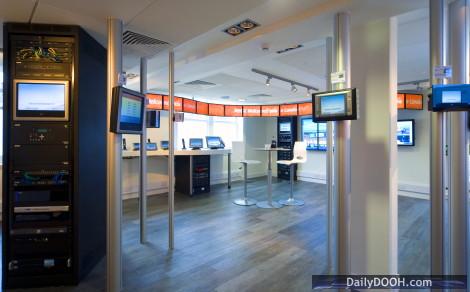 A couple of weeks back we were kindly invited to visit AMX's new showroom in London – part of a 6,000 square foot showroom and office complex in the centre of London.
AMX of course are much more than a signage vendor, but if we label them such for a second it allows us to say that there are very few signage vendors in Europe who have anywhere to take potential clients to see what they can offer – apart from reference / site visits.
As such this showroom will certainly help them when talking to the major accounts.
Rashid Skaf, AMX president and CEO told us "The London office and showroom is the 7th new office and 3rd showroom to be completed in 2008 alone. In the heart of London we expect visitors from London, the UK, Europe and, indeed, from around the world."
Whilst a bit barren (the showroom we felt could have done with an 'interior designer' to make it look less like the insides of a TARDIS) it will undoubtedly be an ideal place to showcase all makes, models, colours and configurations of AMX products. What we saw was certainly impressive and we especially liked the way that throughout the showroom the lighting, audio, and security was integrated with a number of partner products.
About AMX

AMX hardware and software solutions simplify the way people interact with technology. With the increasing number of technologies and operating platforms at work and home, AMX solves the complexity of managing this technology with reliable, consistent and scalable systems. Our award-winning products span control and automation, system-wide switching and audio/video signal distribution and technology management. They are implemented worldwide in conference rooms, homes, classrooms, network operation/command centres, hotels, entertainment venues, broadcast facilities, amongst others.

AMX was founded in 1982 and is a member of the Duchossois Group of Companies. For more information