Gail Chiasson, North American Editor
Clear Channel Spectacolor has partnered with the Times Square Alliance to launch a state-of-the-art digital billboard, in the heart of New York City's famed Times Square, dedicated to providing the area's many small businesses with competitive marketing opportunities.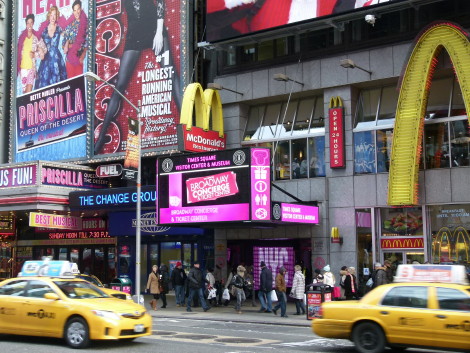 New to the market, the digital screen will help local businesses reach the crowds who pass through Times Square every day.
Situated on a new marquee above the entrance to the Times Square Visitor Center and Museum on Seventh Avenue between 47th and 46thstreets, adjacent to the TKTS booth and Duffy Square, the LED video display was designed to give area businesses the ability to boost their presence, build their brand and drive consumer interest by using the power of out-of-home advertising in Times Square. With approximately 280 restaurants and bars and 40 theatres vying for attention in Times Square, this new platform, with its unparalleled visibility, reaches a crucial audience: half a million daily visitors.
The display will broadcast a mixture of on- and off-premise advertisers, in addition to serving as a community message board for the Times Square Visitor Center and Museum. The Times Square Visitor Center and Museum includes a Broadway Ticket and Concierge Center, city sightseeing tours, the official Times Square gift shop, a city information desk, the New Year's Eve Centennial Ball and Confetti Wishing Wall.
"After decades of providing advertising opportunities to the biggest brand names in the world, we look forward to working with the Times Square Alliance and leveraging our spectacular and digital marketing experience to develop valuable ad products for local businesses within the Times Square community, such as the abundant restaurants, bars, theatre venues, and quality shops catering mainly to tourists," says Alan High, president and general manager, Clear Channel Spectacolor and Times Square Alliance Board Member. "We are pleased to expand our suite of digital products to better serve these companies as they look to more effectively engage with targeted consumers through prime advertising real estate channels."
Tim Tompkins, president, Times Square Alliance, says, "Aside from managing New York City's busiest tourism center and advocating on behalf of our constituents, we are dedicated to improving the quality of commerce in the district. In joining forces with Clear Channel, the Times Square Alliance seeks to address the needs of local businesses in a highly competitive advertising marketplace. We believe the board will be instrumental in maintaining a level advertising playing field and in helping area entrepreneurs and professionals grow their businesses."
Advertisers will have access to a standard feature set that is unrivalled by other billboards catering to small businesses. The Times Square Visitor Center display easily switches between locally stored video clips, web-based streaming content or live HDTV feeds for events. The display also supports interactive and dynamic web-based content, text to screen and integrates with social media.
The Times Square Alliance, founded in 1992, works to improve and promote Times Square – cultivating the creativity, energy and edge that have made the area an icon of entertainment, culture and urban life for over a century.