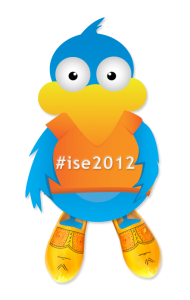 Adrian has asked me NOT to remind folks what the hashtag was for last year's ISE (i.e. ISE in 2011) because it is nothing like this year's, and we don't wish to promote it any further.
The last couple of weeks has, not surprisingly, seen an upswing in twitter traffic referencing #ISE2012, and we've only seen 13 tweets using last year's (incorrect for this year) hashtag.
We have now seen 858 tweets about the show so far (that's 858 correct usage vs 13 incorrect usage, which is a big result for the organisers and for all those who are helping self-police the hashtag).
Earlier today we issued a '#ISE2012 Re-Tweet / Hashtag Advisory' to our clients to help them better understand best practise and some of the common mistakes that people are making leading up to the event. If anyone wants a copy just drop us a line with your email address.