Adrian J Cotterill, Editor-in-Chief
We had a nice email to and fro' with Hallmark Outdoor after they sent us an email following our story 'Radio RSS Feeds UK Digital Billboards'.
We should have added to that story that they (Hallmark Outdoor) have ALREADY been running the digital element of the Absolute Radio campaign. You see, although Hallmark Outdoor run 6m x 4m large format light boxes there is a 46" daylight readable LCD screen displaying Absolute's playlist feed below it. See the picture to the left here.
Currently there are three of these light boxes (The Highway in Wapping, Borough High Street in The Borough and Commercial Street in Spitalfields) and we understand that there are two more planned prior to the London Olympics.
It's probably worth mentioning that this 'format' (called DUO) was launched back in January 2009 AND whilst Absolute Radio did not use it for this campaign, all the DUO panels also offer a walled gardened Wi-Fi gateway for the benefit of the advertiser on display. The wi-fi was added back in 2010 we are told.
The format seems to be well 'marketed' to the OOH market, hence their inclusion on the Absolute roster, but the challenge I am sure that they face is massaging this 'hybrid' format into the right buying box – backlights or digital?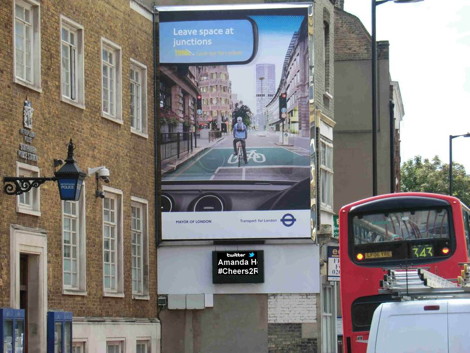 Hallmark's Patrick Lawless told us that "All digital content creation is handled in-house and it's optimised to accommodate viewing distances associated with the panels as was the Absolute feed which incorporates a unique scaling algorithm"
We actually think it's quite nice. The screens are Samsung and we have now found a network that uses Samsung digital signage software.