Adrian J Cotterill, Editor-in-Chief
A massive 32 square metre Yaham LED has been installed by Ram Vision in the heart of Trinity Walk Shopping Centre, Wakefield.
It's the biggest screen to date for the digital network provider Ram Vision and as you can see from the photo below, it is located above a new H Samuel store overlooking Grammar Square.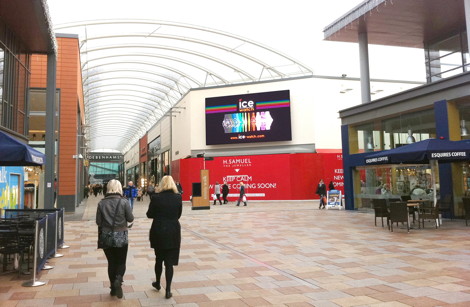 Paul Masterson, Ram Vision's Commercial Director explained "The big screen went live this month. It is a fantastic platform for capturing people in their leisure time, which is when messages are most likely to sink in. As with all our screens, the iconic is located in a premium viewing position, above eyelevel and un-obscured by any retail fixtures and fittings."
Trinity Walk was one of only three new shopping centres opened in the UK in 2011. With over 2.5 million visitors since opening, the 46,000 m2 retail environment has transformed Wakefield into a new sub-regional shopping destination bringing shoppers in from far and wide.
The LED, like many of the screens in the RAM Vision network runs BroadSign.