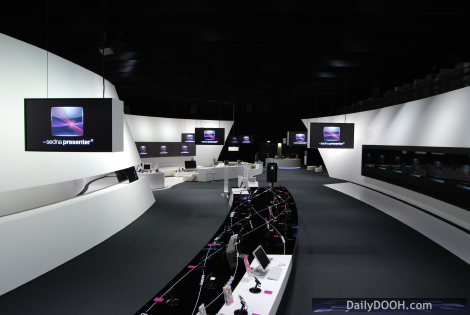 Mark Solomon, Operations Manager at Design1080 (a division of Future Solutions UK Ltd.) is perhaps a bit over excited about this but it caught our eye as it is a Macintosh based signage solution.
It's actually not that unique as a number of the free software signage solutions around at the moment also run on OSX (and we think even Sony's Zirius solution has a Macintosh client).
Anyway, the Macintosh-based digital signage solution is called ~sedna presenter – the tilde (~) is a grapheme with several uses (wikipedia tells us that the name of the character comes from Spanish, from the Latin titulus meaning a title or superscription) AND in this example is part of the product name – presumably though not pronounced 'tilde sedna presenter' (but hey who the hell knows).
There were a number of features listed in the PDF but the most notable to us was a feature coming in January that allows one to dynamically drive ~sedna presenter schedules on the fly from an iPhone or an iPod touch (something that we figure wouldn't be too difficult but is quite cool).
~sedna we are told is related to a German audio-visual staging and production company called Q-Bus but apart from that details were a bit sketchy.