Adrian J Cotterill, Editor-in-Chief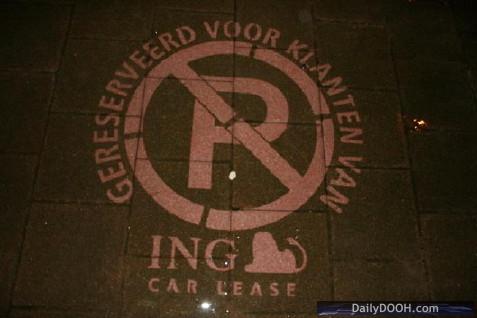 We all know the importance of the other advertising around our digital screens – you know my thoughts with shopping malls for instance – tiny little 40″ (if you are lucky) screens usually hung in landscape mode up on the ceiling compete with sensibly placed 6-sheet posters in the consumer / shopper's eye line – so I am pleased to be able to promote something that ALL of you could use when putting a campaign together.
These guys at Street Advertising Services first came to my attention back in October – I was rude about their logo (if you have anyone in the military you may also be offended) and branding (amateur'ish at best, take a look and you will see what I mean) HOWEVER what they do is very clever and innovative.
DailyDOOH gets a lot of web traffic from their site and their blog and they are getting a lot of attention from the big brands and advertisers.
The picture shown above is a 1m x 1m stencil that I have seen in Amsterdam – in Zuidas which is one of the business districts. The stencil is advertising the services of ING Car Lease.
To look at the advert (sprayed on the ground obvioously) it reads as though the space has been reserved for members only.
I believe that ING are following up the campaign with a direct mail to business users in all the large office blocks around the district, detailing their car scheme.
I think very clever and very useful. All paints are washable etc and no lasting graffiti is left around.