Adrian J Cotterill, Editor-in-Chief
In 1994 in the film 'Clear and Present Danger', CIA Analyst Jack Ryan is drawn into an illegal war fought by the US government against a Colombian drug cartel.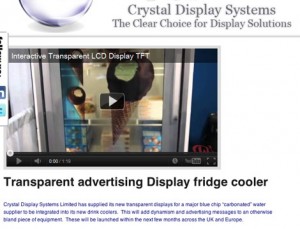 In 2012, in the sequel 'Clear And Present Danger Part Deux' CIA Analyst Chris Riegel is drawn into an illegal war fought by the US government against a Crystal Display Systems that seems intent on stealing ideas, video and claiming product as their own.
Exhibit (a), (disingenuous at best), is their corporate web site (screenshot shown here to the right) that conveniently places a video of STRATACACHE's patent pending transparent cooler door above their own text.
Exhibit (b) M'lud is the actual video. Watch or fast forward to 41 seconds and you will see a certain Mr Chris Riegel on the right hand side of the frame looking at his (wait for it) – yes his OWN PRODUCT!
Exhibit (c) is the headline that DID SAY up until recently 'NEW transparent advertising Display fridge cooler'. In the past 24 hours that text has been changed to read 'Transparent advertising Display fridge cooler' (the word 'NEW' has been removed).
Exhibit (d) is the text underneath that headline and video, we quote "Crystal Display Systems Limited has supplied its new transparent displays for a major blue chip "carbonated" water supplier to be integrated into its new drink coolers. This will add dynamism and advertising messages to an otherwise bland piece of equipment. These will be launched within the next few months across the UK and Europe".
The video shown in exhibit (b) is clearly nothing to do with Crystal Displays at all – in fact (we don't even need Mr Riegel to appear in the video) to know that it's circa 2010 – it has a generation one door (the grey 'surround' gives it away) which STRATACACHE used in Q1 and Q2 2011.
Judging by the Nestle content on the door this (pirate) video was probably shot at GlobalShop in 2011.
The transparent cooler shown in exhibit (b) has absolutely NOTHING to do with Crystal Display Systems AND if Crystal Display Systems were being totally honest they would have (i) asked and gained permission from STRATACACHE for use of said video, (ii) clearly titled the video as something like 'STRATACACHE's Transparent Cooler System shown at GlobalShop in 2011' and (iii) made sure that there were no patents pending on such technology before blatantly copying.
Again in the last 24 hours, the web site has been changed (nothing like being caught red handed for a last minute bout of attempted honesty) and the text '*Please note the above image / video is not linked to our project but is purely there to show examples of uses of transparent displays and we are in no way taking credit for the application' in italics has been added.
Late last week Crystal Display Systems trumpeted the fact that they had supplied transparent displays to Harrods in London but with this kind of blatant plagiarism we find it hard to differentiate between what they claim to be theirs and what is simply the work of others.