Russ Curry, Ministry of New Media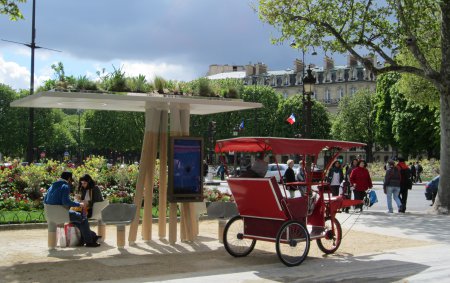 At the bottom of one of the most famous streets in the world, the Champs Elysees, JCDecaux has installed another of its four items of Intelligent Street Furniture chosen by the City of Paris intended to make it easier to navigate through Paris and to render the City and more accessible to the public.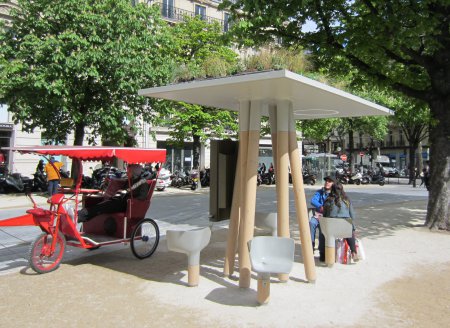 The Digital Harbour offers a haven of peace and quiet in the heart of the city. A first for the city streets, it provides a 100% connected area with internet access and space for discussions for people who want to work, rest or access information.
The brainchild of JCDecaux, the Digital Harbour provides a moment of respite from the bustle of the city. Designed by Mathieu Lehanneur, it draws upon the expertise of Interscène, ISS and Métalforming companies.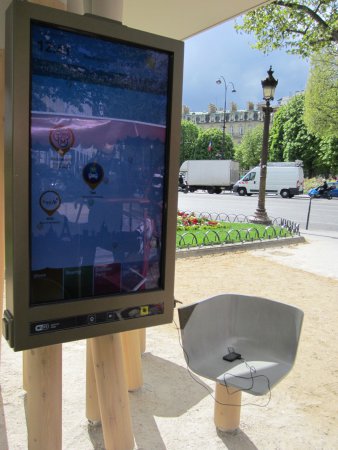 The plant-covered roof and partially wooden structure all help to create a relaxed and peaceful atmosphere. The Digital Harbour includes a free WiFi connection, recharging points for electronic devices, and the opportunity to use all the applications included in the City Box.
The swivel seats are equipped with tabletops designed for laptop computers, enabling users to work solo or to interact with others.
The Digital Harbour is located on the Rond-Point des Champs-Élysées.
The other installations in this 4-part series can be found here: –