Adrian J Cotterill, Editor-in-Chief
Premium outdoor media owner, Outdoor Plus, announced the launch of its latest digital offer for advertisers today – the 'City of London Gateway' which is located in E1, near to Liverpool Street in the heart of the City.
This new state of the art, high resolution digital screen will target traffic near Fenchurch Street and Leadenhall Street and the surrounding roads, reaching both a local commuting audience as well as City of London workers.
Launch clients include Paramount Pictures and Kenneth Green/Mont Blanc. The site goes fully live at the end of this week (week commencing 16th April).
Grant Branfoot, Sales Director, Outdoor Plus told us "With two major digital site launches in 2012 already, our intentions in this medium are clear. Advertisers looking to reach a broad section of high income and successful consumers around the City of London and to exploit the immediacy, tactical creative possibilities and accountability of digital need look no further."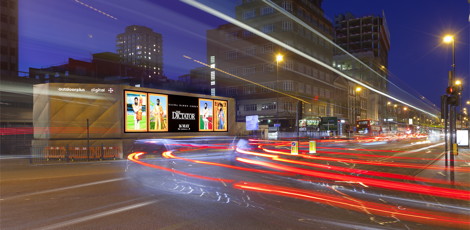 Prior to the live launch, Outdoor Plus are showcase some of the best photographs of the City of London by the award-winning aerial photographer, Jason Hawkes.
Jason has specialized in aerial photography since 1991, working with global brands such as Nike, Coca Cola, Nokia, HSBC, NatWest, Ford and American Airlines.
In this instance, his work celebrates the City of London by day, dusk and night, shown in line with the Outdoor Plus day part to emphasise the relevance of timing and the tactical nature of digital outdoor.
In launching this new site, Outdoor Plus builds on its existing large format digital inventory which includes The Eye in Holborn, the Euston Road Underpass screens as well as the most recent launch prior to this – The Spire on Western Avenue.
The LED is a Lighthouse Impact 12 and the display itself is powered by Scala.