Gail Chiasson, North American Editor
"Greetings from China! This is Vincent Woo, reporter from Asia OOH in Shanghai, China. I'm writing to inquire if you would be so kind as to share your insight into DOOH with Asia OOH readers?" asked the email a few months ago.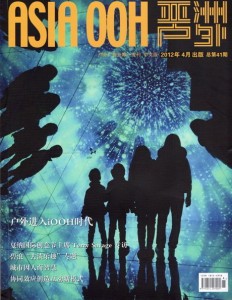 If you have never seen the magazine, it's really, really good and written in parts in both English and Chinese – and as Vincent asked so nicely, we were only too pleased to help.
Here's an extract of the magazine's interview with our editor-in-chief…
Please briefly introduce the development history of DOOH, and what major breakthroughs has DOOH made since its birth? What role has technology played in it?

Most would agreed that digital signage started off back in the late 1980s with screens in the casino industry, and there are some vendors, like Scala, that can trace their heritage back as far as that (Digital Vision AS was renamed Scala in 1992 but was first established in Norway in 1987.)

Digital Out-of-Home on the other hand dates back to 1993 with the establishment of the first true Digital Out-of-Home network being the Walmart network in the United States of America, put together in conjunction with Premier Retail Networks (PRN).

In those days, the screens were CRT-driven television sets and (with the case of Scala, the early computing devices were not Personal Computers as we would know them but Commodore Amigas) so the most obvious change is first the use of Plasma screens, then (as now) LCD screens.

As LCD screens and PCs have become cheaper, they have allowed DOOH networks to become ever more pervasive and, of course, the Internet has allowed them all to be networked with much more ease than early satellite-driven mechanisms.

The usual drop in price of technology has allowed DOOH networks to flourish, and this, no doubt, is a trend that we will see continue.

According to your knowledge and experience, what new characteristics and trends has DOOH presented from last year until now?

The biggest trend in the last year has definitely been interactivity – both with touch and with gesture. We have a whole generation now brought up with the Apple iPhone and iPad, and they all expect to touch a screen to interact with it.

In the last six months, the 'next big thing' has been Near Field Communication (NFC). If you couple NFC with a Mobile (Cellular) Phone, it is both exciting and slightly scary for Digital Signage as it allows even static posters to become cheaply and easily interactive – you are effectively replacing the shared LCD or LED screen with that of the mobile screen (something some folks confusingly call the fourth or fifth screen).

What obstacles is DOOH facing currently? How to break through?

Despite protestations from traditional OOH companies, I still don't see that many of them really want DOOH to succeed in the short term. In most cases, digital cannibalizes their existing (read 'traditional') revenue streams. There are exceptions, and there are some verticals, such as airports, where they try that little bit harder, but, overall. I don't think they try hard enough.

Globally, also, the outdoor media buying and planning process hinders DOOH's development. Companies setup when outdoor was difficult to plan and buy continue to have a stranglehold on budgets and it is not in their interests to let go.

Online digital advertising has shown how easy media buying can be (think Google Adwords) and digital out-of-home needs to make the same sort of strides as online to really succeed and breakthrough.

Based on your understanding towards DOOH, what do you think is the key and the law of DOOH development?

Keep it simple. Just because engineers can design in interactivity, buttons, tickers, RSS feeds, different zones on screens, etc., doesn't mean that they should. They all fail to remember that the traditional OOH people make an awful lot of money putting up a simple static poster. In 90% of cases, we see over-engineered and over-complicated solutions. DOOH, like OOH before it, is all about audience, traffic, numbers AND placement – which new entrants to the market tend to forget.

As media and retail are merging, what new role will DOOH play in marketing and communication?

Retail needs to do something about the threat posed to it by online shopping, and the only way it can do that is to make the shopping experience better. Installed properly and with relevant and engaging content, screens add to the whole 'retail theatre' experience. Digital Signage software plugged into EPOS and other shopper merchandising systems will help transform retail and bring it more into the modern age.

We are becoming a world of screens. How will screens converge in a digital environment? With the digitalization of media, how should DOOH integrate with other digital media to maximize its value of communication?

Don't think of 'screens' as that is far too limiting. Every surface is a potential display. We recently carried out a piece of work for a private equity firm answering the question "what would the world look like if the cost of a digital display was zero?" – Imagine, if you will, pixels everywhere! (Good examples of this are those 3D projection mapping solutions you see sometimes on the outside of buildings at night or those table top displays you see in museums).

Pixels work well alongside vinyl BUT the entire surface needs to be thought of as a whole. Too often, we see screens bolted on as an afterthought. That has to change, but it will change when pixels themselves become more important than screens.

Compared with the western countries, how do you view the DOOH industry in China?

There's no doubt that China has more digital screens than any other country, but the level of sophistication still seems incredibly low. Few of the screens are networked in any online manner, and the sheer number of screens thrown around in a crazy ad hoc fashion lets everyone in the industry down. Too many screens, it seems, can do more harm than good. It is my belief that many are ignored or simply 'just not seen' in amongst all that clutter!

It's a sort of over-kill. Perhaps it just goes to prove that regulation is a good thing? Germany and the UK, we think, still lead as examples of how to do the best digital out-of-home.

In your opinion, how will DOOH evolve in the next five years?

It's very hard to look forward more than a few years – five years hence will see us in 2017. Who would have thought just over five years ago that many of us would be walking around with an Apple- branded phone in our pocket? (The first Apple iPhone was launched in January, 2007.)

If DOOH can shake off the shackles thrown around it by the traditional OOH world, the next five years will be an exciting time, but what the industry needs to see is brands and advertising agencies working more like they do in the online rather than offline world.

Screens will become cheaper but, as we said before, it is pixels – not screens – that will become more important. Software that can drive huge numbers of pixels and interact with it (whether that be other machines or humans) will become incredibly important.

In fact, we have seen little innovation in the digital signage space since the late 1990s. We will undoubtedly see several new entrants enter the space – larger companies that I think will be able to afford to innovate more freely.
About ASIA OOH Magazine

As the first professional magazine that focuses on the out-of-home advertising industry, ASIA OOH analyzes and supports the development of the industry with professional insight and international perspective. Through providing in-depth information on the field, it has become an influential reference in the thinking and action of government supervisors, OOH media suppliers, advertising agencies and advertisers. ASIA OOH is currently the one and only professional issue in the Asia-Pacific region that focuses on the OOH advertising field.