Adrian J Cotterill, Editor-in-Chief
London's shoppers are in for a surprise thanks to a new partnership that will see mobile vouchers for nearby shops offered through free public Wi-Fi hotspots for the first time in the UK.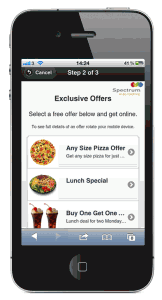 Spectrum Interactive and location-based media company, Selective Media, have teamed up to launch a new offer-based media platform that will display deals to shoppers as part of the log-in pages when they connect to public Wi-Fi using a mobile or tablet device.
The service will grant free access to users in exchange for simply selecting a free promotional offer from one of the service's brand and advertising partners.
The new service will initially be made available across Spectrum's 'FREE Street WiFi' network†, spanning some of London's busiest locations, including Oxford Street.
Following this initial rollout in central London, plans are in place for a city-wide and national expansion, taking advantage of Spectrum's 1,800 street payphone kiosks (of which 1,500 are within the M25).
Daniel Gray, Commercial Director at Spectrum Interactive told us "People have come to demand connectivity 24/7, but 3G doesn't always live up to their expectations. Our street Wi-Fi network fills a void, offering broadband-style speeds in some of central London's busiest areas".
He added "For brands and advertisers wanting to get targeted messages and relevant offers directly into the hands of consumers on the move, this service represents a superb and cost-effective opportunity. Spectrum Interactive has been a market leader in monetising public internet access for 11 years, and this new media model is set to create an innovative way for brands to engage and reach their target markets."
Chris Bull, Founder of Selective Media commented "For the first time, brands can drive sales by using local Wi-Fi hotspots to deliver mobile vouchers to shoppers who are nearby one of their stores. This is great news for London's shoppers, who will not only be able to surf the web for free, but be rewarded with money-saving deals for doing so. The big benefit for brands is that it gives them an opportunity to target an affluent, on the go, tech-savvy young audience, who can be hard to reach through more traditional channels".
About Selective Media

Selective Media is the UK's leading location based on-line media specialist. Based in the heart of Soho and with over five years experience in monetising Wi-Fi, Selective Media offers exclusive advertising opportunities across a large portfolio of sites within the UK and Europe. Our sites include airports, hotels, hospitals, marinas, coffee shops, shopping centres and universities. Selective Media works with all the major advertising agencies as well as brands direct.
†The "FREE Street WiFi" network currently attracts around 25,000 unique users per month (from only 28 hotspots in Westminster)