Gail Chiasson, North American Editor
Scala today has installed two large LED walls at Naples International Airport, executed by Scala Certified Partner Konvergence.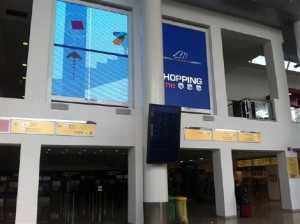 Capodichino Airport in Naples welcomes 5.7 million travelers annually.
In order to enhance the customer experience at the airport, Gesac, the airport management company, decided that it wanted two LED walls, of 3 x 4 meters each, for marketing purposes.
These impressive screens run on Scala software and now serve as the core element for the communication and advertising strategy at the airport.
"Konvergence has created an eye-catching digital installation that immediately draws the attention of everyone in the departure hall of Naples Airport," says Damon Crowhurst, senior director, Scala EMEA. "An airport is open and operational 24/7 and 365 days a year. That means that the proven stability and perfect playback quality of the Scala software is crucial for promoting the airport's services."
The LED walls are located in the main entrance area of the departure hall, so they are clearly visible for all passengers, who can view a combination of important airport service information messages combined with advertising. By displaying the ads next to or in line with important airport services information, a much higher 'guaranteed' viewing rate is created versus screens that only have an advertising focus. By selling advertisement slots, Gesac are able to reduce the overall cost for operating the site significantly.
"At first I was a little afraid Scala was too complicated, looking at the wide range of functionalities available in Scala Content Manager," says Guglielmo Cirillo, product manager advertising at Gesac. "I wanted something simple and reliable. However, when I started working with Scala, everything became clearer and I understood that all the available functionalities are there to give us more flexibility, especially for scheduling activities. And any time now, when I have a new particular requirement, I discover it's already present in Scala, ready to be used."
Gesac S.p.A. (Gestione Servizi Aeroporti was established in 1980 by the city of Naples, the Province of Naples and Alitalia as a majority state-owned company. The public partners (City and Province) decided to privatize Naples airport making it Italy's first privatized airport. The airport is now owned by Italian F2i (Fondi Italiani per le Infrastrutture) Group.