Gail Chiasson, North American Editor
Planar Systems Inc., has launched several new products at #InfoComm12 including Planar Mosaic Project Designer (developed in conjunction with the Planar Mosaic video wall system) – a free, online application that lets users create individualized designs for the recently introduced architectural video wall system; and UltraLux zero-bezel large-format LCD displays designed for digital signage.
Of note, we hear that
Clear Channel Airports
is working with Planar to launch the UltraLux line in its airports.
Planar Mosaic Project Designer invites users into a virtual environment to place and rotate Planar Mosaic video tiles and preview images or video on the tiles. The result is a custom rendering of a video wall layout. Users can also share design concepts via email or social media, as well as request a price quotation for their designs.
"Our goal is twofold," says Jennifer Davis, vice- president of marketing, Planar Systems. "It allows clients to experiment with Planar Mosaic and envision how this new video wall technology might be used in their space. In addition, our reseller, consultant and designer partners can use the tool anywhere an Internet connection is available to guide their clients through the possibilities of Planar Mosaic and create renderings to use in presentations and discussions.
"This is the latest example of how Planar is building on nearly 30 years of display innovation, creating new possibilities for video displays in architectural applications and the resources for our customers and partners to make that vision a reality."
Planar Mosaic Project Designer is available online. This mobile-friendly web application is compatible with Apple iPad, Android-powered tablets and tablet PC operating systems. An installable Microsoft Windows® variation of Planar Mosaic Project Designer is also available.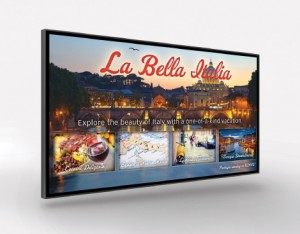 Planar also debuted its UltraLux Series:
60", 70" and 80" LCD displays that feature a unique industrial design and forward-thinking engineering which brings current consumer electronics styling to the commercial digital signage market.
With a range of display sizes, Planar UltraLux Series is available in wall-mount or free-standing models, providing customers a wide range of display options for their digital signage applications.
"With the Planar UltraLux Series, customers finally have the eye-catching scale and configurations needed to create truly immersive digital signage experiences that capture the imagination of consumers and, ultimately, build brands," says Davis. "The range of screen sizes, touch interactivity, and design flexibility are unprecedented. And the strong early market reaction to Planar UltraLux is an indication that this type of design is an important performance criteria for buyers of digital signage displays."
The Planar UltraLux Series mirrors the style and aesthetics of today's most popular consumer electronics. The zero-bezel, all-glass design, extends to the edge of the display, similar to popular smart phones and tablets. Planar UltraLux displays are available with white or black edge trim color options, offering customers the option to select the color that best suits the design aesthetics of their environment.
The ultra-thin profile of the Planar UltraLux displays when wall mounted is less than three inches, making it thin enough to meet rigorous Americans with Disabilities Act accessibility guidelines in buildings and facilities. Free-standing Planar UltraLux displays feature the same modern and elegant industrial design that allows it to fit well into any public environment.
The Planar UltraLux Series was engineered to reduce the total cost of compared to other large-format digital signage displays. The built-in UltraLux Mounting System allows for simplified installations with no additional hardware required. The UltraLux Mounting System incorporates a kickstand feature that tilts the display away from the wall for easy access to the electronics. Eliminating the need to remove the display for servicing reduces complexity, cost, and service time by up to 70%.
With edge-lit LED technology, the Planar UltraLux Series delivers reduced power consumption by up to 60% compared to CCFL technology, saving operating costs over the lifetime of the display. For further reliability, it features a redundant power supply design, helping to ensure uninterrupted operation.
In addition, each Planar UltraLux display comes standard with Planar's proprietary Extended Ruggedness and Optics protection glass for enhanced durability in public spaces, while providing improved view ability in bright ambient environments. Options for every digital signage application.
The Planar UltraLux Series will be available in late summer through Planar's global network of authorized resellers.