Gail Chiasson, North American Editor
Sports fans have been playing an active role in determining the sports coverage displayed on digital billboards, thanks to a two-week interactive campaign from Baton Rouge-based Lamar Advertising, New York-based ADstruc and Bleacher Report that has been running in eight U.S. cities.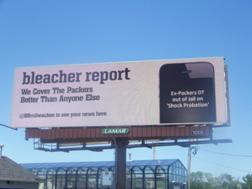 Bleacher Report, one of the fastest-growing sites on the Internet and the Web's fourth largest sports media destination with more than 30 million monthly unique users, is posting its real-time Team Stream content on Lamar Advertising Company's digital billboards. The campaign allows sports fans to interact with the content and choose updates on any team they want.
The technology is the first of its kind and leverages localized twitter handles to provide a custom feed. If a sports fan wants to change the news displayed on a digital billboard to a different team, he simply has to tweet @bleacherreport with any team name and the stream will change instantly to that team's news.
"We were looking for a fun and tech-savvy way to show sports fans that we cover teams better than anyone else," says David Finocchio, co-founder of Bleacher Report. "We took one our crown content jewels – our Team Stream app – and were able to leverage the content and illustrate to fans how they can personalize it."
Bleacher Report's dynamic contributor community specializes in reader-friendly coverage of real-time news stories, producing upwards of 1,000 original daily content items in entertaining multimedia formats.
The campaign is Bleacher Report's first-ever brand buy.
"We were super pleased to work with Bleacher Report and bring its vision of a social, interactive billboard to life," says John Laramie, CEO of ADstruc. "Through our platform, and in partnership with Lamar Advertising Company, we made it extremely simple for Bleacher Report to hyper-target Lamar's inventory and launch this innovative campaign."
Lamar Advertising's digital billboards in Chicago, Milwaukee, Kansas City, Dallas, Oklahoma City, Atlanta, New Orleans and Indianapolis are being used for the campaign, which ends this weekend.