Gail Chiasson, North American Editor
San=Francisco-based DigiCast Networks, a division of Brite Media Group, is celebrating that its Gas Station Radio has surpassed 1,000 installed locations.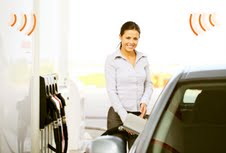 DigiCast's Gas Station Radio Network currently has 1,100 gas stations installed that are in the top 13 markets and reach 35.5 Million adults 18+. This is a major milestone for the company and positions Gas Station Radio as one of the largest digitally delivered media forms to gas stations. Gas Station Radio reaches consumers with high quality audio advertising that is digitally delivered directly to consumers at the gas pump.
DigiCast controls content, volume and ads on their installed media player and canopy speakers. Consumers at the pump hear ads, music, news, weather, and localized content based on gas station demographics and area.
"Gas Station Radio is a great way to reach people at the gas pump and as they go to and from the convenience store," says Chris Lanman, senior vice-president, DigiCast Networks. "We have a lot of flexibility in programming ads, content, and music. For our client ads, we are able to take an existing radio spot, or create an audio spot at a low cost, and have it up and running within hours of creative approval."
DigiCast Networks is a digital media company specializing in out-of-home video and audio advertising solutions. In addition to the Gas Station Radio Network, its networks consist of digital displays at cafes (Cafe Network) and banner ads in restaurants wrapped around live TV (Restaurant Network). DigiCast reaches consumers as they are on the go and making purchase decisions with specialized content to keep them engaged and long dwell times to deliver effective advertising.
In total, DigiCast has built one of the largest digital OOH media networks in the country with installations at more than 2,300 exclusively contracted venues.