Adrian J Cotterill, Editor-in-Chief
Observant drivers in and out of London alongside the M4 this week may have noticed another new billboard pop up – this time a 'landscape digital asset' from CBS Outdoor.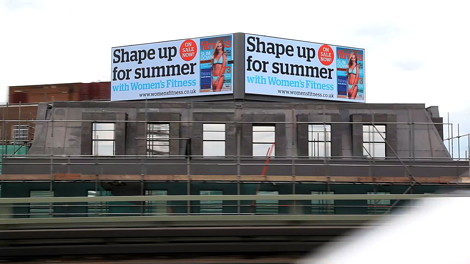 This is a new foray from CBS Outdoor into digital roadside in the UK, a market estimated to be worth around GBP 36 million.
The billboard even has a name – Site 76, which yes we agree sounds a bit weird when you first hear it but it has meaning. It's Site 76 as the expected audience reach alongside this busy arterial route into London is 76 million people annually!
CBS Outdoor told us that the name was specifically chosen to reinforce CBS Outdoor UK's commitment to sell audience rather than format.
Simon Harrington, Marketing Director, CBS Outdoor said "Whilst our roadside competitors name their screens after the shape of the structure, we are very much an audience led business and regard ourselves as platform agnostic. It was important therefore for the name of the new site to reflect our positioning in the market. We deliver urban audience engagement and will continue to look for strategic opportunities to expand, allowing us to deliver this valuable audience to advertisers."
Site 76 features two high-definition, LED screens boasting wide angle visibility with a width of 7.7m and a height of 2.8m – these are most likely Prismatronic LED Displays by Prismaflex. The East and West facing screens have a huge reach and can be seen from 150 metres away, standing on the elevated section of Junction 1 Chiswick roundabout.
Jason Cotterrell, Country Director at CBS Outdoor UK told us "We hope Site 76 will be the first of many exciting developments in this area as we look to further bolster our portfolio in the UK and to enhance our extensive digital reach in the capital."
He continued "What will set it apart from other roadside screens is the flexibility that we will offer advertisers, who can target travellers at bespoke times with tailored messages appropriate to that time or day, whether they are travelling in or out of London. We have also focussed on making this accessible to all advertisers with an appropriate view on pricing. Additional flexibility will be available in the way it can be purchased, either as a standalone opportunity or packaged with other digital screens in Westfield or London Underground."
An average of 133,780 vehicles pass the site on a daily basis, impacting 2.5 million people every fortnight. This encompasses both domestic and international audiences travelling to and from Heathrow airport.