Gail Chiasson, North American Editor
At the MobileBeat conference July 10 and 11 in San Francisco. Melod.io, a mobile music messaging platform based in Finland announced the launch of its service, which enables users of social networks to create personalized music and audio messages that they can share with friends.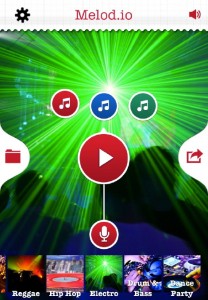 It raised USD 300,000 in angel financing through public Finnish sources.
Available currently on the Apple iTunes Store for iPhone users and coming soon on the Google Play store for Android users, Melod.io is available currently in standard freemium mode, with no ads, and as an in-app purchase of genre-driven music packs content for US$.99 (€0,79), with renewable subscription models.
Melod.io will soon release a freemium version with ads, and will also include free 'for the lifetime of the app' music packs as well. The company will continuously update its music catalogue based on popularity and demand. Later this year, Melod.io will introduce a premium model, without ads, more voice effects and visuals, later this year.
Targeted initially at the 12-25 age demographic, Melod.io will market its app across Europe, the U.S., China, India, and Russia. The company is currently in discussions with Finnish retailers and major music labels for customized music packs.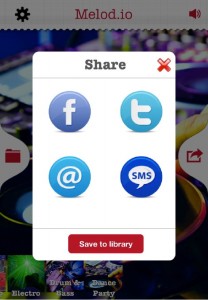 Melod.io is optimized for mobile audio mixing and messaging for consumers, and can be customized for mobile marketers keen to deliver audio messages through a variety of social networks.
Melod.io's research determined that social media users had reduced the intended meaning of messages in social networks through text-only communication and that, while they would like to create music to express themselves, they had found it too complicated. With more than half of Facebook users accessing the service through smartphones, and with picture and video sharing growing exponentially, Melod.io views music and audio messaging as a new m-commerce platform which can lead to sell-through and retention.
Using an onscreen slider, users can preview and download different music packs, and can easily search for genres from 'Happy Birthday' messages to different beats and vocal styles. An animated tutorial leads users through the process of creating music messages. Users can create their own backing music, using pre-loaded effects and beats and loops that are provided by Melod.io. Users then record their voice messages over the top of the backing track, and can share the finished track via SMS, e-mail, Facebook, or Twitter.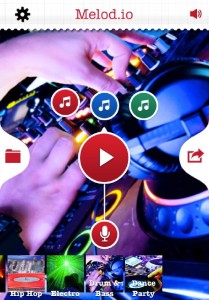 "Melodio is a fun and easy way to share your feelings and emotions with friends and family in audio," says Jonathan Massey, founder and CEO of Melod.io.
"We have created a truly interactive mobile music messaging service, with loops and effects, so that users are not merely bound by text or photos. Mobile music sharing, through streaming services and social networks, is a static experience, and we have found that users are more savvy to the creative potential of their smartphones today, much as they were with their PCs when Web 2.0 first started in the last decade."
Massey created Melod.io with Minus Degree's Samu Keranen after having left Nokia in early 2012. The Melod.io service was developed with in-house talent and with Theoretical Limits, from Vancouver, British Columbia and Codemate, from Oulu, Finland, .