Gail Chiasson, North American Editor
Montreal-based Float4 Interactive was asked to provide a large interactive touchscreen for FishNet Security, security solutions provider, which recently opened their new world-class security center in Kansas City.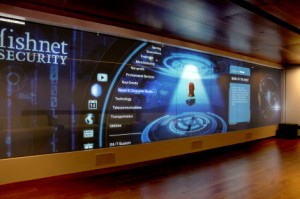 At 33' wide by 8' tall, this screen may be the largest interactive screens in North America. It features a multi-touch support system to go along with it's 5120 X 1080 resolution. Float4's RealMotion technology provided the large scale multi-touch capability and content playback while a customized BlackStone processor handled the projection blending.
Riverkey, Kansas City, provided the content, and Stafford Tech Group oversaw all of the audiovisual integration for this project.
FishNet Security is a provider of information security solutions that combine technology, services, support and training. Since 1996, the company has enabled clients to manage risk, meet compliance requirements and reduce costs while maximizing security effectiveness and operational efficiency.