Gail Chiasson, North American Editor
This month we welcome David Leider, CEO, Gas Station TV, Birmingham, Michigan.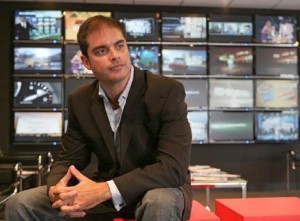 You have a background that was largely in advertising and, I believe, Yahoo! Where did you get the idea for GSTV?

In the late 90's, a few companies and major oil tried to execute a content and ad delivery system at the pump. It was, frankly, too early for the concept. Data connectivity technology was still in its infancy and screen costs were prohibitive. Our first major oil partner, Murphy USA, asked our lead investor to revisit the concept and create a complete video solution on its behalf. Gas Station TV was formed, and the investor group recruited me. A pilot was executed in 2005, and we officially launched the company in 2006.

You can target on a hyper-local level. How important is that when you have a large national network?

We believe hyper-local targeting is extremely important for national, regional and local marketers. National advertisers are looking for ways to not only reach significant numbers of their target audiences, but in the most relevant manner possible.

Hyper-local targeting is now imperative for marketers. It is a key capability that separates digital marketing like GSTV from antiquated, singular traditional media messaging like traditional static billboards or network TV. For example, when Choice Hotels ran a national campaign with us, it used our hyper-local mapping technology to provide viewers with the locations of the closest Choice brand hotel to our station. Every GSTV station had a custom hyper-localized directional that informed viewers where the closest Choice brand hotel was located.

How did you get involved with Wayne. Is it a shareholder of GSTV? How do you leverage this partnership?

Wayne, a GE Energy Business, is a partner. It is not a shareholder. We saw a need to integrate GSTV into the fuel dispenser supply chain to expand our reach, and Wayne is a leading fuel dispenser manufacturer. This partnership enables broader distribution for GSTV. It provides Wayne the opportunity to enhance its relationships with gas retailers by offering a robust video solution featuring GSTV's exclusive content (ESPN, CNN's Headline News and Showbiz Tonight, Bloomberg TV, and AccuWeather), and our custom marketing services for the gas retailer. It's a win-win for GSTV, Wayne and the retailer.

You used to talk about your screens at the pump. Lately, I'm hearing about inOvationTV at the pump. Is this the same product with a new name or is this something new? Explain, please.

inOvationTV is the name of the joint product we have with Wayne. It is a pump-integrated video platform that combines Wayne's industry-leading iX Media system with GSTV's world-class content and retailer services. The consumer experience is the same; it's just that the TV is imbedded in the pump vs. on top of it. We install inOvationTV free-of-charge for qualified gas retailers. While we are still installing GSTV-only screens, our focus is on inOvationTV with Wayne.

You recently arranged for Ayuda Media Systems' Platform to manage your media sales and operations workflow. With Ayuda's Platform, Splash and Juice now up and running with GSTV, what are the differences that you are experiencing?

The Ayuda Platform enables us to streamline our backroom processes and be more efficient.

By choosing Ayuda Media Systems to manage parts of your operation, some would say that you no longer need Scala. Would you say that Scala have had their day? (especially, perhaps, in the ad based network world?)

What Ayuda provides for us is an integrated solution to manage a lot of different operational areas. Scala has many strengths, which are highly valued, and will continue to be valued by operators in an industry that sees software vendors come and go.

How much of your screens are content and how much advertising? What are the changes you've made since the network was founded?

Our content to advertising mix is approximately 60%-65% content and 35%-40% advertising. A key differentiator for GSTV vs. traditional TV is that ads do not run back to back. On traditional TV ads are in pods of four-to-six commercials. With DVR penetration approaching 50%, ads are being skipped at an increasingly high rate. The TV ad model is simply not as effective anymore and GSTV offers marketers a DVR-proof environment.

I believe that you have a four-minute loop on your screens. Is that the length of time a customer usually spends at the pump? You seem to be constantly adding new content. With the new deal with CUSG, will you extend that loop time?

On average, consumers spend approximately five minutes at the pump. We broadcast an average four-minute loop to ensure that fuelers have an opportunity to view the entire experience. While we are always looking to provide our viewers with the best content, we will not be expanding our loop. We have the ability to rotate programming as needed. Separately, CUSG (Credit Union Solutions Group) is an advertiser, so it fits into the ad portion of our experience.

What is your potential for growth in the U.S.? Does your growth plan include moving into Canada or across the pond into Europe?

We are growing rapidly in the US, today delivering over 37 million monthly viewers. It's a far cry from the 150,000 viewers we started with during our pilot phase. Our relationship with Wayne has us on track to increase that number to over 70 million monthly over the next few years.

GSTV today delivers more weekly viewers than 99% of all TV shows. And other than a few of the major reality competitions and sports, no TV program will deliver more viewers than GSTV.

Today we are focused on the US, but get international inquiries all the time. I am sure at some point we will expand globally.

Do you plan to offer any new products beyond your gas pump screens in the next two years? And in the long-term? What type of product would interest you?

Gas video has been very successful for us. Maintaining focus on one vertical, versus trying to be an aggregator of digital screens in disparate venues, is what marketers are looking for. Marketers like network experts who can provide focused solutions. Frankly, no one has been successful at selling multiple verticals to advertisers to date.

Please tell us about your measurement system and why you use what you do.

GSTV pioneered Nielsen measurement in the gas space, and, in fact, was the first DOOH network overall to provide DMA level data. We recently partnered again with Nielsen to enhance our measurement and developed a GSTV audience planning model, which allows advertisers to view the advantages and value of GSTV in direct comparison to other media.

The new GSTV IMS Model further demonstrates how effectively the network reaches today's hard to reach, on-the-go-consumer. This data is available in IMS Clear Decisions through Crosstab and RandF.

The GSTV model was developed using MRI gas purchase behavior data and Nielsen GSTV audience data. Integration into these Nielsen planning tools easily enables advertisers to compare GSTV's reach to their other media options to further demonstrate how GSTV delivers stronger media ROI versus their other options.

You allow people to submit and share information on community-focused events and causes for free. Your web site says that you will post them to your events site, Facebook and Twitter and consider them for on-air on the GSTV network. If an event or cause is accepted, how do you decide how many screens to run it on? And do you do this often?

Our community-based initiative 'Your Neighborhood', has really been a positive influence with our viewers. It enables the 'little guy' (individuals and small organizations) to communicate what is important to them personally in their local communities. There is no other media that gives them this voice.

Once they submit their cause or local event to Your Neighborhood, we look at the area where it is relevant, and run it on the screens in that neighborhood. A Your Neighborhood segment typically runs in every loop, so we really provide individuals with the opportunity to get the word out for their causes. A full listing of Your Neighborhood events can be access by visiting the GSTV website and clicking through to the community tab.

Who sells your advertising? If handled in-house, how large a sales staff do you have?

We have over 20 sales professionals at GSTV. They are tasked with working with national, regional and local clients. Via our partnership with CUSG, we also have an agreement that enables CUSG to remarket GSTV to Credit Unions around the US.

Who has been the most influential individual for you in your career? Explain, please.

My mother. She instilled a deep sense of entrepreneurial spirit in me. When I entered fifth grade, my mom – who was in her 50's at the time – decided to go back to work and launched a wholesale and retail imprinted T-Shirt business. She put me to work at nine. It was when Farah Fawcett was big in the 70's, so printing T-shirts of her image everyday after school was pretty cool for a nine- year-old boy. At 13, she let me ride my bike to the retail store and work there after school. In high school and college, she sent me on the road to northern Michigan to call on the company's wholesale customers. She taught me how to properly service clients, and not to accept mediocrity.

And yes, she did pay me!

I don't believe you are a member of the Digital Place-based Advertising Association. Why have you not joined? Do you have any plans to do so?

GSTV was actually one of the initial board members. While we are not currently members, I have a lot of respect for the organization. I simply feel our marketing resources are better utilized focused 100% on our business.

You recently launched a rebranding effort to highlight GSTV's impact for the core business of its advertisers and gas retail partners. Can you explain your rationale as to why you did this, and why it is important for marketers?

GSTV's original positioning was 'It's always primetime at the pump'. After working with advertising and gas retailer clients for the last six years, and conducting numerous research studies, we frankly learned we were not doing our brand justice by limiting ourselves to a simple comparison against primetime television.

Under our new positioning of 'Driving Consumers', our brand messaging focuses squarely on GSTV's ability to deliver the critical hard to reach, on-the-go consumer. Our partners and research have demonstrated that our network has the ability to drive consumers to take specific actions like heading into the C-Store or driving to a nearby auto dealership to purchase products and services, promoted on our screens.

Moreover, we have seen excellent early results with driving consumers dialing **GSTV – our new mobile program – to take action on our advertising partners' offers. The star of our new campaign is a virtual salesperson, or Sales Pump in this instance, who embodies the spirit of the brand. She is the personification of our ability to expertly engage, influence and drive consumers to action on behalf of advertisers or the station. The new Sales Pump has made her debut on our reenergized website.

Can you tell us a little more about your **GSTV mobile initiative?

StarStar, a new type of mobile phone number, allows GSTV to deliver a robust mobile experience on behalf of its ad clients to any phone through a simple, fast phone call. By dialing **GSTV (**4788), consumers can gain instant access to an advertiser's mobile app or Web page. The platform also gives advertisers the ability to push coupons, and videos directly to consumers' mobile phones – a first-of-its-kind opportunity for consumers and advertisers alike.

GSTV hosted a nationwide sweepstakes, which enabled consumers to enter to win $50 gas cards and the chance to win a year's worth of free gas. The two-week long sweepstakes generated more than 46,000 entries hailing from 46 of the 50 U.S. states. Another interesting fact emerging from the sweepstakes data was that an overwhelming majority of the calls, nearly 70%, originated from smartphones. It's a confirmation of GSTV's ability to drive consumers via our geo-targeted, location-based service offerings.

Choice Hotels was the first company to use our new StarStar-enabled mobile platform. In addition to utilizing our mapping technology, Choice utilized **GSTV to download the Choice Hotels iPhone, Android or iPad free application on the spot.