Gail Chiasson, North American Editor
Bell and Cirque du Soleil last week announced the formation of a new, far-reaching joint venture to develop Québec-based media content for television, film, digital, and gaming platforms.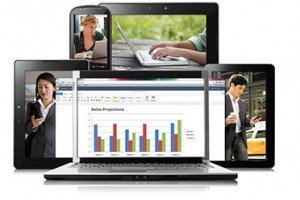 Headquartered in Montréal, the new company will develop entertainment projects for sale and licensing around the world, leveraging Cirque du Soleil's creative resources, consumer insight, and infrastructure with Bell Media's production experience, media platforms, and diverse distribution capabilities.
Supporting the creation of new Québec-based media jobs and linked to Bell's pending acquisition of Astral Media, the joint venture is an extension of Bell's strategy of investment in the development and distribution of Québec content. Bell has committed a separate $80 million in new investment in Québec content development when it joins with Astral, and Bell remains the largest private contributor to Canadian broadcasting and content development, spending almost $600 million every year.
"Bell's multi-million dollar investment with Cirque du Soleil represents two great Montréal companies coming together to further develop Québec's world-renowned creative industry," says George Cope, president and CEO of Bell and BCE. "Working closely with Cirque du Soleil aligns perfectly with Bell's commitment to make Québec's best content available to as wide an audience as possible."
"Cirque du Soleil has always put creative forces from Québec in the forefront," says Daniel Lamarre, president and CEO of Cirque du Soleil. "This commitment to invest in Québec content and job creation benefits not only consumers but the broader Québec creative and media industry as well."
Inspired by Cirque du Soleil's unique creative process, projects will be developed by the new company in Québec for sale and licensing to both Canadian and international markets. Cirque du Soleil will contribute its library of existing content and current projects to the partnership, including the company's previous television productions as well as the upcoming 3D feature film Cirque du Soleil: Worlds Away.
The partnership will be governed by a board of directors including representatives from both Cirque du Soleil and Bell Media, and managed by a programming team with input from both partners.
Cirque du Soleil's 3D feature film Cirque du Soleil: Worlds Away will be distributed by Paramount Pictures in December. Written and directed by Andrew Adamson (Shrek, The Chronicles of Narnia: The Lion, the Witch and the Wardrobe), and executive produced by Academy Award winning filmmaker James Cameron, the 3D film event features artistic and acrobatic performances from some of the most elaborate Cirque du Soleil productions.